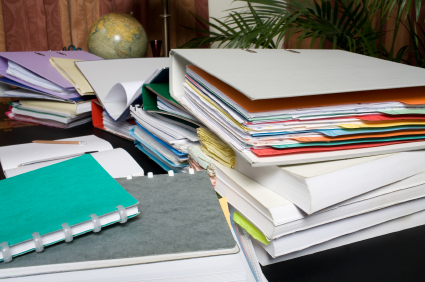 I was in a client's office recently as they were getting ready for a meeting.
They were looking for a document. (Actually, they were frantically looking for a piece of paper.)
I asked if could help.
As they moved piles around their desk, they replied, "No… I put it right here. I know where it is."
Apparently not.
Five minutes later, they gave up looking for the document and headed off to a meeting (late!) without their reference materials.
Piles Are Not Organization
People tell me all the time that their messy desk is organized.
"I know where everything is!"
"It works this way."
"This is my system."
The truth is… people pile things up because they don't have a way to organize their work.
"Piles are not organization.

They are a procrastinator's excuse to avoid organizing."
Piles don't let you find your work.
They aren't an efficient way to store your important things.
In fact, piles are slow.
Ditch the Piles
The next time you are looking for something that is buried in your piles, think twice about adding to the problem.
Here are just a few tips to help you avoid the piles:
Put It Away Now! – The next time you are "piling" things up, ask yourself how much longer it would take to put things away right. It may take a couple extra minutes now, but will save you even more time and effort in the future.
Have a System – Many people create piles because they do not have a system for organizing their stuff. Whether it is papers at work or supplies at home, invest in the filing or organization tools you need to put things in order. A filing cabinet or shelving system can make all the difference.
Clean Your Desk Regularly – One way to keep the piles in check is to have a regular clean-up session. I clean up my desk and surrounding workspace every Friday before I depart the office. Not only does it keep things in check, but it sets me up for a clean start to the next week.
Throw It Out – I am a big believer in disposing of things that you will not need again. "If in doubt, throw it out!" More likely than not, you will not need that paper again. Or that random item. Trash it, donate it, or give it to someone who can use it.
Piles Are Slow
Piles are not organization.
They are not part of an organizing solution.
Take a few minutes today to address the piles in your life.
Question: Are piles part of your organization system? What are your best tips to avoid piling things up?