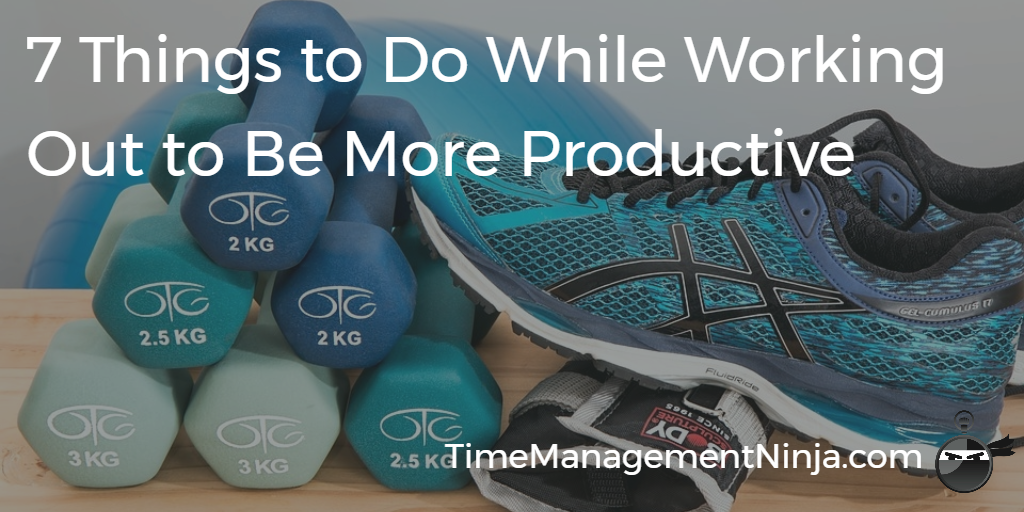 You know that working out is good for your health.
Maybe you're even part of the few that know exercise can make you more productive.
But you still convince yourself that you don't have time. You just can't make it to the gym.
Getting Creative with Your Work Out Time
You have way too many presentations to prepare, meetings to attend, emails to check, friends to catch up with. That's why you say you can't add "work out" to your to-do list.
We can all make time for the gym if we're willing to be creative with how we manage our time.
Exercise gives you the energy to perform your less physically demanding work more efficiently. So overall, by making time to work out, you will be creating more time in your day for other tasks.
Here are 7 Things You Can Do While Working Out to Be More Productive:
1. Have a Meeting with Someone – Why not schedule a hike with someone instead of sitting in a tiny office to have your meeting? Your PA or your editor can surely walk and talk at the same time. Why not suggest a hike one afternoon to go over the details of your new email format or your new book? Tell them to bring their phones along for voice notes.
2. Listen to an Audiobook – Self-education is the other thing you just don't have time for, right? Why not knock out two birds with one stone? Listen to the audio version of that book you've been meaning to read. Get an audiobook app on your phone, and set to doing power crunches with your headphones on.
3. Make Phone Calls – That two-hour phone call you need to have with your vacationing boss? Why not have it while on a hike? All you need is a good set of earphones to connect to your phone. Get Evernote or OneNote for easy note-taking.
4. Read Work Documents – No matter what the document, it will certainly be easier to get through while pedaling on a stationary bike or walking on a treadmill. Get a binder clip, highlighter and a note board for your next gym session, so you're ready.
5. Have Some Much-Needed Family Time – Maybe you can't make it in time for dinner every night and you always have emails to check on the weekends. Schedule a gym session or family walk with your partner and your kids, and catch up with your family. If you can get your family to be healthy and connected, why not?
6. Take Pictures For Your Social Media Sites – You know you're missing out on a very powerful marketing tool by neglecting your social media accounts. Take your iPhone along on your hike so you can collect those Instagram gems.
7. Strategize – In the bustle of everyday life you might not get time to reflect on where your life is going and to plan on where to take your life next. If you don't want to carry additional items to the gym and you would rather not have anyone around when you're breaking a sweat, use your workout time to have that much-needed planning session.
Being Active and Productive
The old "no time" excuse is not trendy anymore.
And you don't want to be stuck in the past do you?
Your health is important. Make time for it. Even if you have to get creative with your to-do list.
Question: What are other ways to be productive during your gym time? What excuses do you make for not being able to work out? You can leave a comment by clicking here.