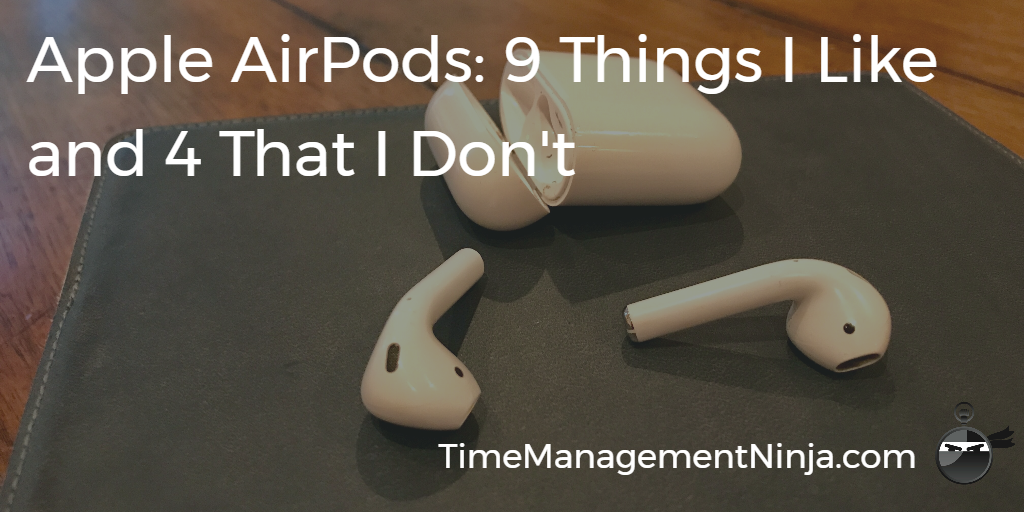 While everyone is waiting for the next iPhone, there is another great Apple product that many people have overlooked. I am referring to Apple's wireless earphones, that they call AirPods.
AirPods were released last December, after a short delay. They have been hard to obtain ever since, and are still on a 6-week backorder. A recent survey ranked customers satisfaction at 98% for AirPods. (Truly amazing!)
I have been very happy with my AirPods for the past several months. Today, I want to share what I like about them, and a few things I would like to see improved.
Apple's Wireless Headphones
What are AirPods?
They are Apple's wireless BlueTooth headphones. The look like Apple's traditional earbuds that someone snipped off the white wires.
Don't be fooled by their simplistic appearance. They are easily Apple's most innovative product in some time. In Apple fashion, they took something that already existed and dramatically improved the user experience.
There have been many wireless Bluetooth headphones, but most still have a cord between the two earbuds. The AirPods are two separate "pods" that can be used individually (as a BT headset) or together for music and more.
I was lucky enough to have gotten one of the few early pairs that were released in December. So, I have been using them for over 4 months.
They are a great product. Some would say a little pricey at $159. But, not really, when you consider what they are. Both a Bluetooth headset (two actually) and wireless headphones for music and more.
I would definitely count myself among the satisfied customers. However, I also have a few things I would like to see improved.
Here are 9 Things I Like About Apple AirPods and 4 Improvements I would like to see…
9 Things I Like About Apple's AirPod's:
Simple Pairing – Apple has removed the hassle of pairing BT headphones with your phone. You simply hold the AirPods case up to your iPhone and you get a pop-up on your screen asking if you want to pair. Many headphones have to go thru some complicated multi-step process.
They Stay Put Put – One of the questions I get asked most often about the AirPods is, "Don't they fall out?" No. Actually, they stay put just great. This was surprising to me, because Apple's original earbuds never fit me well. How well do they stay put? I ran a 15K (9.3 miles) race and they didn't move at all.
Call Quality – The call quality on the AirPods seems to be better than most BT headphones. I have yet to have anyone complain about the connection when I am using them.
The AirPods Case – The AirPods charging case is both amazing and a little strange. It does look like a rounded dental floss case. It feels solid and is a great fidget toy by itself. It is addictive to flip the lid open and shut in your hand. But, it's purpose is to store and to charge the AirPods, and that it does exceptionally. It gives your AirPods a "home" so that you don't misplace them and it can recharge the headphones several times before needing to be charged itself.
Battery Life – The battery life on the AirPods is very good. I haven't done any timed tests, but I get plenty of time on conference calls when talking. You can always switch to the other earpiece. When listening to music (no mic usage), I get several hours of listening time.
Syncs to All My Apple Devices – This is pretty cool. If you sync the AirPods to one of your Apple Devices, it automatically pairs with all of the Apple devices in your iCloud account. My AirPods are paired with my iPhone, iPad, MacBook, and iMac.
No Cords – OK, this is kind of the whole point right? But it is a game changer to not have cords to constantly get tangled. My originally Apple headphones were always a tangled mess in my bag. The freedom to have such small headphones that are not tethered is a great experience.
Portability – I find it very easy to carry the AirPods. The case is non-bulky and fits nicely in a pocket. Previous BT headphones were always awkward to carry around.
Smart On/Off/Pause – Another cool feature is that you don't have to turn the AirPods on or off. You simply insert them in your ear and they turn on and sync. They turn off when you remove them. Even cooler, they will pause your music if you remove one of the pods and resume when you replace it.
4 Things I Would Like to See Improved on the AirPods:
Tapping My Brain – This is my #1 gripe about the headphones. The "tapping" action you need to do to activate the headphones while they are in your ear can be quite annoying. It is not a pleasant feeling to be "tapping" on your eardrums. I would rather see a touch sensitive implementation than the physical "tap" that the AirPods require.
Better "Wake Up" Connection – Not sure if this is a result of the power-saving mode that Apple has implemented, but I sometimes have trouble getting the AirPods to "wake up" and connect to my iPhone. This can be frustrating, especially if you are trying to use them on the go, and didn't connect to your phone before starting your travel.
Switching Devices – It is a great feature that the AirPods connect to all of my devices, but occasionally I seem to get them stuck connected to my laptop or iPad. This seems like an issue that could be resolved in a future OS update.
Better Siri Usability – Not sure if this is about Siri or the AirPods, but I would like to see even more usability of Siri via the AirPods. This seems like a great area of expansion in the future.
AirPods are Great Headphones On-the-Go
Don't let my list of 4 improvements throw you off. Apple's AirPods are one of the best products that Apple has released in some time.
They have been game-changing for me in terms of using my iPhone on the go. I didn't previously carry a BT headset due the awkwardness of carrying and using.
If you are an iPhone user, I highly recommend checking out Apple's AirPods. Of course, you may have to wait 6 weeks to receive them. 🙂
Question: Do you have Apple's AirPods? What are your thoughts and impressions? You can leave a comment by clicking here.