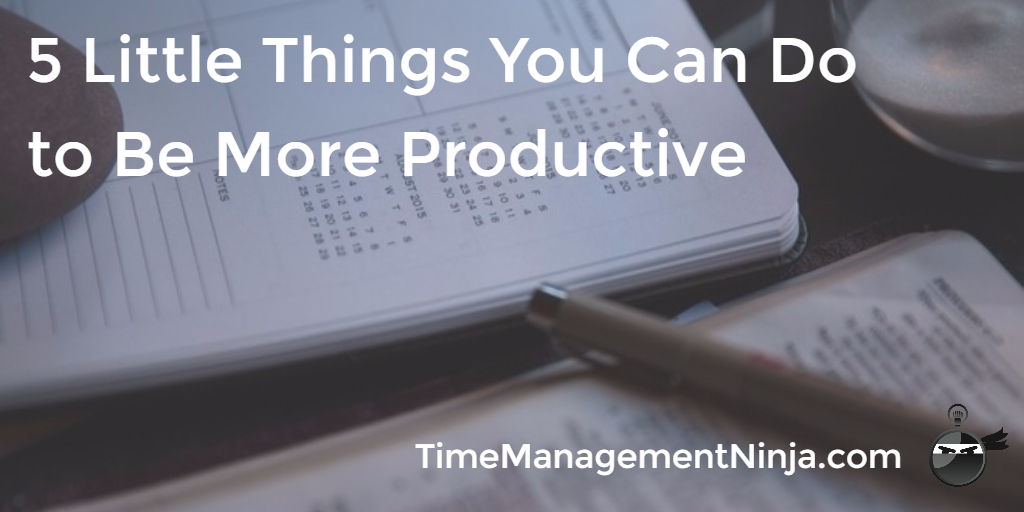 It's not always the big things that impact your productivity.
In fact, when it comes to time management, it is often the little things you do.
Today, I have 5 small things you can do to get more done with less effort.
Small Time Tips with a Big Impact
Time management should not be a big effort.
Many people think that time management is a burden. Something that is difficult to execute.
Yet, your time management should never take more effort than it saves. And more often than not, it's the little productivity actions that can have the biggest results.
"When it comes to time management, it's the little actions that produce the most productivity. "
Here are 5 Little Things You Can Do to Be More Productive:
Start Early – The early bird is always more productive. It is easier to get things done before others are even awake. If you think you can't get up earlier, try even 15 minutes… to get ahead of your schedule or commute.
Review Your List First – It's hard to get anything done if you don't know what you are supposed to be doing. Always check your list before you begin. This allows you to see your entire landscape of work, and place the right priority on tasks.
Pick Three Must Do Tasks – Some days you get many things done. Yet, other days, you are lucky to get anything done. Pick three must do tasks, that you will dedicate yourself to doing, no matter what life throws in your way.
Single-Task – Multi-taking is a guaranteed recipe for many things started and not much completed. Be intentional in not starting your next task until you finish the one you are working on.
One More Thing – If you want to get ahead, take one extra step each day. Again, it doesn't have to be a large todo, but one extra phone call or task each day… will get you ahead of the pack.
Small Actions, Big Productivity
Your time management doesn't need to be an overwhelming complex system.
Small tactics and tips are often the ones that get the most done.
Question: What small things can you do today to improve your productivity today? You can leave a comment by clicking here.