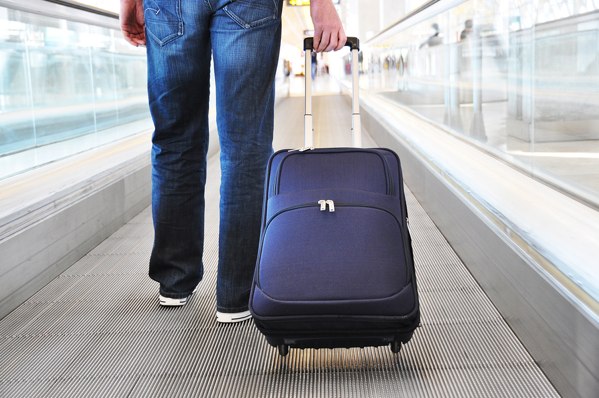 Yesterday, I left for the airport 30 minutes late.
That one statement probably stresses many people out.
Thoughts of fighting traffic, hunting for a parking spot, scrambling through security, and sprinting to the gate. Nervous?
Yet, that is not what happened. In fact, it was a leisurely walk to the departure gate.
If you want to hurry less, you need to allow more time.
Always Allow More Time Than You Need
In truth, I did leave 30 minutes late for the airport.
However, it was 30 minutes later than I planned to leave, not 30 minutes later than I needed to leave.
The normal unexpected things happened: kids, pets, and last-minute issues to address. After I got all of those taken care of, I headed out the door a full 30 minutes late.
The reason I didn't have to hurry was that I had allowed additional time from the get go. My planned departure time included plenty of extra time built-in.
"If you want to hurry less, allow yourself more time." (Tweet this Quote)
More time before events…  a little extra travel time… even a buffer between back-to-back meetings.
Try these recommendations:
Extra 15 minutes for regular events – Even getting to a meeting on time can be a challenge many days. Allow extra time to gather your items, finish what you are doing, and actually get where you are supposed to be. If you do arrive early, there are many things you can get done in just a few minutes while you are leisurely relaxing.
Extra 30 minutes for travel or important events – Whether is driving across town or to the airport, always allow even more time when travel is involved. You never know when traffic will happen. As well, when something is truly a top priority, allow a full 30 minutes of extra time.
When you allow yourself more time, you can hurry less.
Allow More Time, Hurry Less
Does hurrying less sound good to you?
If you want to reduce your stress, pace, and general rush, then give yourself extra time in your schedule today. Those extra 15 or 30 minutes of buffer time can make all the difference in your day.
Less stress. Less hurry. And often, more done.
Question: What could you allow more time for today that would allow you to hurry less? You can leave a comment by clicking here.