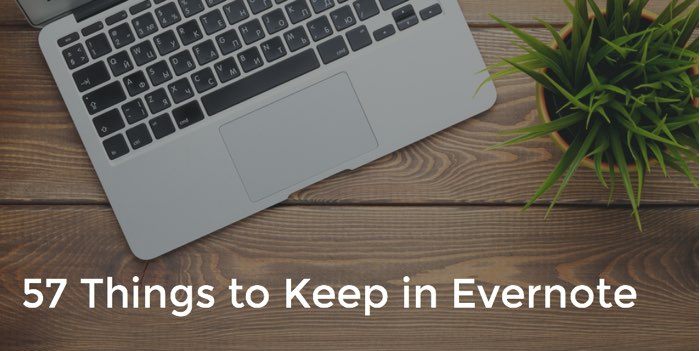 Most people have heard of the note-taking application Evernote.
Many have tried it out online or on their mobile devices.
However, one of the most often asked questions I get about it is, "What am I supposed to put in it?"
So today, I am sharing 57 things that you can capture in Evernote.
57 Things You Can Store in Evernote
Evernote is a great application into which you can dump your brain, so that you don't have to keep track of everything.
Of course, the trick is that you have to capture those bits and pieces of information when they arise, so that you will have them again when you need them.
I get asked often "what" information that I capture in Evernote. So, I am sharing a list of some of the things I found when I reviewed my 8-year library of notes.
Here Are 57 Notes and Things to Capture in Evernote:
Recipes – One of my oldest notes in Evernote (from 2008!) is my wife's best margarita recipe. Capture your favorite recipes and never search for them again.
Solutions to Problems – Save answers to problems so that you don't have to solve them again.
Business Documents – Business files, agreements, receipts, and more.
Secrets – Yes, secrets. But, of course use Evernote's encrypt feature.
Quotes – Motivational quotes for future inspiration.
Bookmarks – To things on the web that you want to be able find again.
Checklists – Procedures, and recurring lists to ensure that you don't miss an item or step.
Travel Packlist – A checklist, used whenever you travel for personal or business.
Meeting Agendas – Pre-planning for meetings.
Meeting Notes – Action items and notes from meetings. You can set reminders for follow-up items if you choose.
Family Notebook – Start an Evernote notebook that contains all of your family notes, from important docs to simple things like kids' school information. You can share this notebook with your spouse.
House Notebook – Another shareable notebook can contain all of the maintenance, receipts, and more for your house.
Membership #s – Even have to search for that one loyalty program or hotel chain membership?
Software licenses – Keep these in one place, so you don't have to go "fishing" for them in old emails.
Reference Docs – Documents that you may need on the go or for quick reference. Could be medical docs, or even lease info.
Screen shots – Screen shots of important things. These can be from you desktop or even your iPhone. Annotate them with Evernote's Skitch app.
Scanned Docs – While Evernote isn't a key repository for scanned docs, you can store copies of certain scanned docs in Evernote so they are at your fingertips, even on the go.
Whiteboard pics – Photos of white board notes from meetings. Often quicker and easier than writing it down.
Moleskine pics – Even before Evernote partnered with Moleskine, I used to take photos of my important notes that were in my paper-based Moleskine system. Now it's even easier for you to do the same.
Tutorials – Instructions or teaching videos that demonstrate a skill that you want to learn in the future.
Prescription info – Take photos of any prescription bottles so you can reference them on the go, or for easy refills.
School Supplies List – List of school supplies needed by kids for the school year.
Contractor Info – Save the contact info and jobs that contractors have done in case you want to use them again in the future.
Proposal Draft – Notes and outline for business proposals.
Infographic – A graphic of stats to save for future reference.
Conference Agenda – Handouts and agenda for a conference you are attending.
Product Information – Seller information for an item interested in.
Gift List – List of gifts for upcoming holidays and birthdays. You can even set reminders right within Evernote.
Hotel Notes – Information from a hotel, including the names of key personnel that were helpful.
A Poem – A motivational poem or inspirational document you want to use to inspire you later.
Sports Roster – Team list and contact information for you or your child's team.
Team-building Exercise – Directions for a team-building exercise that you'd like to utilized in the future.
Ticketmaster Receipt – Receipt and tickets PDF for a future concert.
Negotiation Notes – Facts and details from a business negotiation. These come in handy, when one party chooses to "mis-remember" certain numbers.
Photos of Returned Equipment – Pictures of equipment, including serial #s, that you returned (such as to Comcast.) These were immensely valuable to me when 6 months later Comcast called and tried to say I was responsible for the missing equipment.
Clothing Sizes – For anyone you shop for. Never have to ask again.
Coaching Session Notes – Dated and specific notes from performance coaching sessions. Keep a log of on-going sessions when dealing with an individual performance issue.
Discount Codes – Coupon codes that you may not be ready to use immediately, but may in the near future.
Gate Codes – Physical access codes that you encounter but may not use regularly enough to remember.
Conference Code Access #s – Dial-in numbers and leader PIN #s.
Presentation Notes – Notes for an upcoming presentation you may be attending or leading.
Webinar Notes – Keep Evernote open side-by-side when you are on web-call so that you can capture notes immediately.
On-line Course Notes – Similarly, use Evernote to take notes during online training courses. You can usually drop screen shots right in-between typed bullets and notes.
Customer Support Log – When you call customer support for a company, document the dates, times, and who you spoke with for future reference.
Blog Posts – Save blog posts and writings from others that you want to be able to refer to, like this one!
White Paper – A white paper for future reading. If you save it to your hard drive it will be lost. In Evernote, you can read it anywhere.
Magazine Article – Clipping of magazine article.
Frequent Flyer Info – Airline information and club #s.
Recommended Services – Recommendations for local services from friends and neighbors.
Comics – Clippings of some of your favorite funny and insightful comics.
Interview Questions – Questions and answers for an upcoming interview.
Phone Conversation Notes – Notes and details from phone conversations.
Wine Notes – Photos of favorite bottles of wine that you liked while out to dinner. Just in case you want to buy a bottle as a gift.
Points of Contact – Information about specific contacts at business or organizations. This is beyond address book information, and includes conversations and details.
Favorite Meals – Favorite meals and links to recipes.
Restaurant List – List of favorite local restaurants. This is very useful when everyone says, "I don't know where I want to eat."
Pet information – Appointment history and vet info for family pets.
Mini-Dossiers – Keep facts and details about friends and close business associates. It's always a nice surprise when someone arrives to meet you (that you haven't seen in some time) and you have already ordered their favorite drink.
All Your Notes in One Place
Hopefully this list has sparked some ideas for you in your note-taking.
Remember, the more you put in to Evernote… the more you'll get out in the future.
Question: What facts and notes do you store in your Evernote? You can leave a comment by clicking here.