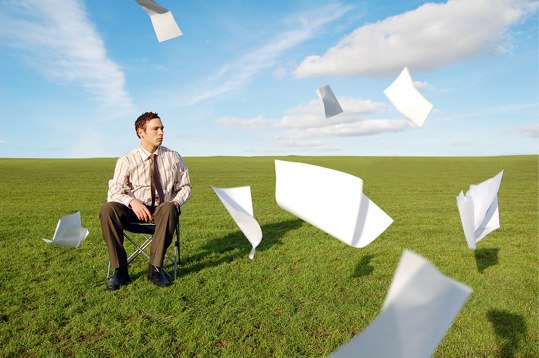 When you need a piece of information, is it at your fingertips?
Or are you constantly chasing your info like papers in the wind?
It is important to capture those finer details now, so that you will have them later.
What information are you not capturing that you will need in the future?
Information Everywhere
In these days of instant answers and online resources, you can't seem to find that one piece of information you need.
The Internet is a great resource. And Wikipedia provides us instant access to info that previously would have required a research project.
However, neither will help you figure out when your next doctor's appointment is… or tell you the cell phone number of the contact you worked with last year.
In these days of Wikipedia and Google, the hardest information to find …can be your own.
So, when is that appointment that you were looking for?
What is the phone number you needed?
Or, maybe the question is, "Where is the scrap of paper that you wrote it down on?"
What Information Are You Missing?
Quick information quiz… can you answer the following?
When is your next doctor appointment?
What was the date of your last car maintenance?
Where is the receipt for the last major purchase you made?
Can you produce the phone number of any colleague that you worked with more than five years ago?
None of these should be difficult… if you are capturing the important information in your life.
Otherwise, each of these could be a full-blown research project and take quite a bit of your time to locate.
The important part is capturing the information now, so that you have it when you need it.
Here are 10 Pieces of Information That You'll Regret Not Capturing:
Appointments – Do you write appointments down on scraps of paper or business cards? Don't take those appointment cards from the doctor's office and the like. Instead, put them directly into your calendar. (You always have your phone with you, right?)
Big Ideas – When you get that million dollar idea, make sure you capture it. How many great ideas have you forgotten until someone else acted on it? Have a notebook for those fleeting moments of inspiration. A paper notebook works great or an app like Drafts works wonders on your phone.
Phone Numbers – Always capture phone numbers, especially cell phone numbers. This action only takes a few taps on your phone. You never know when you will need that number again. Even better, you will know who is calling your when they are in your address book. People are surprised when they call me after extended timeframes and I greet them by name.
Addresses – Even in the age of the Internet, it can be hard to get personal addresses. When someone sends you a note or card, always capture the return mailing address. You never know when you might want to return the gesture in the future.
Reference Info – Capture those random reference pieces of information so that you have them when you least expect it. For example, the size of air filter that your home takes, or the special lightbulb that a device requires.
Notes – The number one tool missing from most people's time management system is a single place to keep notes. Avoid the Post-Its and back-of-the-napkin scribbles. Whether meeting notes or personal, keep them organized and in one place. You'll know exactly where to look when you need them.
Todos – Do you fail to complete tasks because you forget about them? Capture todos as soon as they arise. Let your task list remember them, so you don't have to. Of course, ensure you look at your list often.
Receipts – Can you produce the receipt for the last major purchase you made? You never know when you might need a receipt again. There are many great apps and services that will help you capture your receipts. Of course, a simple method to snap a picture with your phone and file it.
Personal Info – Get a secure app and save important personal info. You never know when you will need credit card numbers, health data, passwords, or insurance info. When an emergency does happen, you'll have on less thing to worry about.
Solutions – Do you find yourself addressing the same issues repeatedly? Make sure you capture those solutions so that you do not have to spend time solving the same problem twice.
Capture Your Info
Make a list of the information that you find yourself searching for often.
Instead of letting those pieces of data slip by, ensure that you have a method to capture each type.
The next time you need a piece of info, it will be right at your fingertips.
Question: How do you capture the information in your life? Click here to leave your tips in the comments below.