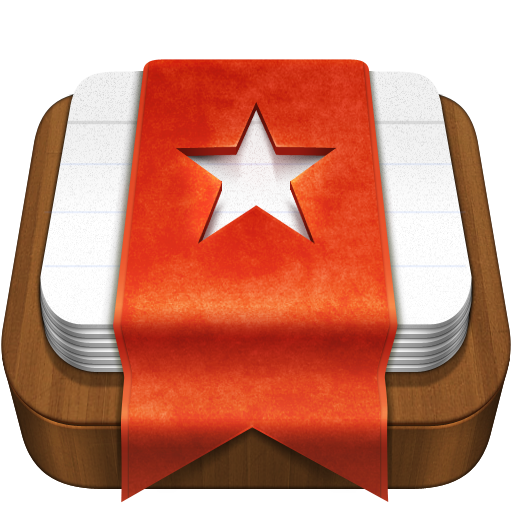 Most todo apps are too complex.
Some cost too much.
Many aren't there when you need them.
I have found a todo app that encompasses many of the time management strategies and philosophies of TMN.
It's called Wunderlist.
And it hits all the right spots.
Did I mention it is free?
My Favorite Todo List
I get asked frequently for recommendations on productivity software. In fact, I have over 2 dozen Todo apps installed on my iPhone. I have tested apps big and small. Cheap and expensive.
Until recently, I had not found one that fit me just right.
Then I found Wunderlist. No other todo app has impressed me quite the way that Wunderlist has.
I have been using it for a few months now, and I am a total convert.
Wunderlist is produced by Berlin based 6Wunderkinder, which was founded in late 2010. Wunderlist has rocketed to popularity in the past 6 months. It crossed over a million downloads back in March, and is now available on almost every platform.
What separates Wunderlist from the pack is its design, simplicity, and effectiveness.
"A todo list must be there when you need it.

Simple enough that you can use it without trying, yet powerful enough that it always has your back."
Often, todo apps are too complicated.
They suffer from poor UI design, or feature bloat, or are just hard to use.
– Should it take 47 steps to enter a todo?
– Do you really need to categorize your todos by categories, contexts, locations, contacts, dates, and flavors?
– Should a todo app have so many options that it looks like it belongs in the Microsoft Office Suite?
I don't think so.
Hitting All the Right Spots
Why is Wunderlist so effective?
It just works.
It is there for you. Yet, stays out of your way.
It instantly captures what you need to do. And it keeps important things front and center.
Here is a quick pic from the iPhone app of Wunderlist: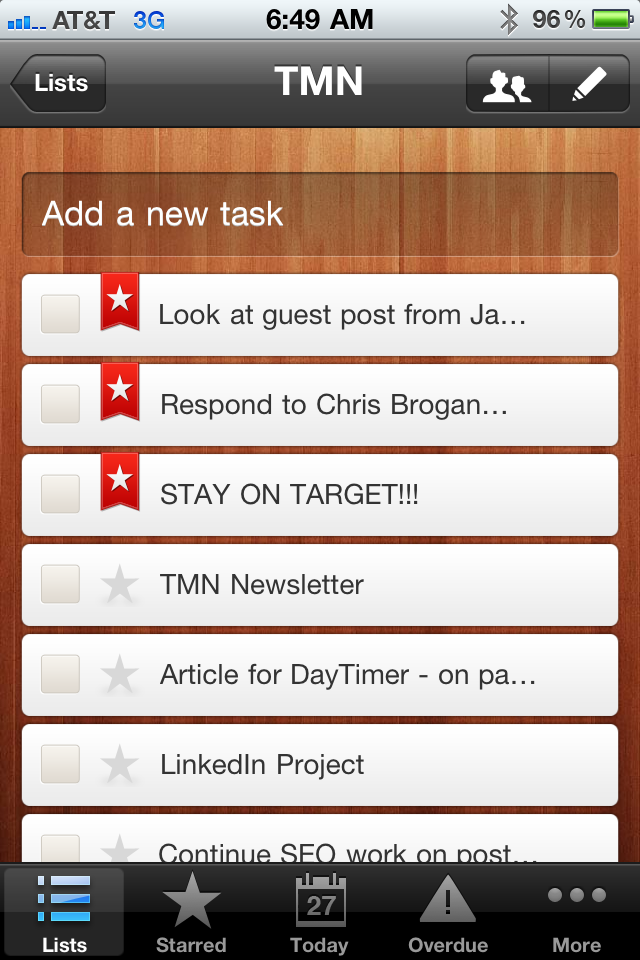 When using Wunderlist, I find it a truly enjoyable experience. I can quickly document what I need to do, and I can instantly see what I need to accomplish today.
"Wunderlist strikes the perfect balance between design, simplicity, and productivity power."
Here is how Wunderlist his all the right spots:
Great User Interface – Many todo apps fail out of the gate simply with the user experience. The majority of list apps are too complex. Too many steps to get things in. Too many screens and taps needed to get things done.
Simple Capture of Todos – It should be quick and simple to capture todos. When something crosses your mind, you want to be able to capture it quickly without effort. I have seen some apps that literally take 17 steps to get a todo entered.
No Bloat – Wunderlist represents a great balance between functionality and features. You can sort todos into multiple lists. You can set due dates if you want to. And you can "Star" tasks that are must do. I use this category for my "Today List."
Multiple Platforms – I use Wunderlist across my iMac, Mac Air, iPhone and iPad. You can access via the web if you choose. It is also available for Windows and Android.
Awesome Syncing – No matter I am… my todos are there. Wunderlist seems to magically sync across all my devices. I never have to worry about wether I have manually synced or mess with wifi sync like some products. Wunderlist has the best syncing I have seen across devices. It is fluid and quick, and you just forget about it.
Shareable Lists – Need to share a list with a spouse or even a co-worker? Wunderlist does that, too. This is very useful for shared todo lists or grocery lists.
Price – Wunderlist is free. It is hard to beat that price. I am not sure the ideal price for a todo app, but I can tell you that it should not be $49.95. (Like another todo app that was just released…)
It's Not Rocket Science
6Wunderkinder's website states, "Using your software, shouldn't feel like rocket science."
I couldn't agree more.
I believe in choosing tools that you'll use, and tools that you enjoy.
Wunderlist fits this to a tee.
If you are looking for a todo list that is lean, mean, and simply works… then you need to try Wunderlist.
Look for more on Wunderlist from me in the near future.
Do you use Wunderlist? What is your favorite todo app and why?