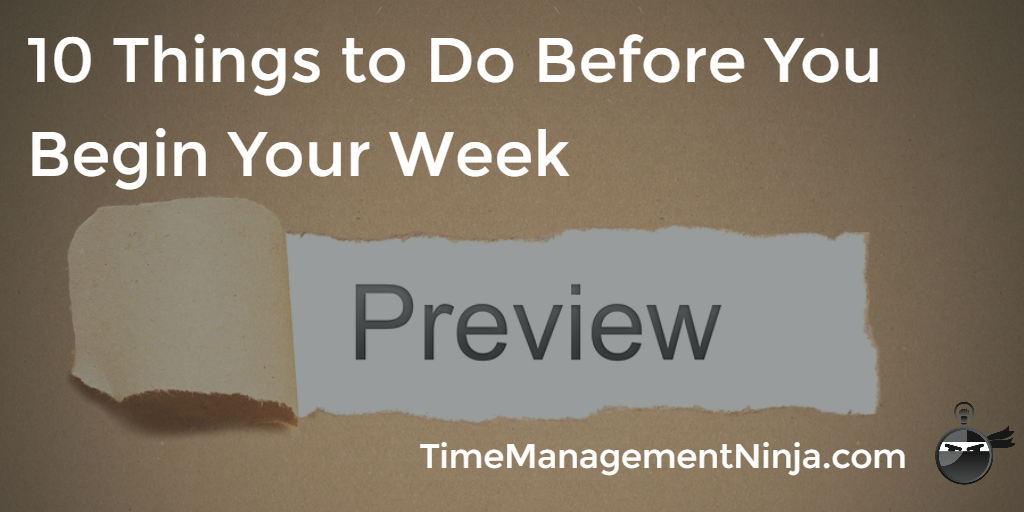 Wait, before you start your week… are you ready?
Many people like to do what they call a "weekly review of their week."
I prefer a forward-looking approach.
Let's call it a weekly preview of your week.
Get Ready Before You Begin Your Week
Before you begin, you need to do a preview of your week.
Planning and preparing in advance of beginning your week can make a tremendous difference in your productivity. It can also reduce stress and eliminate "life friction."
A good start will save you much time and effort in your week. Yet, many people are lucky if they get out the door on time, let alone having a forward-looking plan.
"Being prepared for your week makes everything easier."
Here are 10 Things to Do Before You Start Your Week:
Check Your List – Have a plan. Know what you need to do and prioritize your tasks. This will keep you from being "busy" with menial todos instead of working on what is truly important.
Review Your Calendar – Check your schedule. Do you know where you need to be and where? As well, make sure that you block time for your projects and priorities. Fill your schedule  before heading into the week. You can confirm appointments and resolve any conflicts before they cause issues.
Clean Up Last Week – While your weekly preview is a forward-looking exercise, don't forget last week. Make sure you carry forward any undone todos. As well, reviewing your notes from last week will often uncover needed actions for this week. Don't start each week a "blank slate" with no memory of your previous endeavors.
Do that Important Task – Always do your most important task first. Do it before you start the week. Even before you get out of the house. I like to get up early and do my most important work before leaving the house Monday morning.
Get Enough Rest – Do you come out of your weekend… needing another weekend? If you don't get enough rest before you begin your week, you will be dragging from the outset. Go to bed early, get enough rest, and make sure you are taking care of yourself.
Pack Your Gear – Ever get to work only to discover you forget an important item? Or ever have to go back home to get that technology charger or an important document? Make sure you pack your important items before heading out the door. Better yet, pack it up the night before.
Get Email Working for You – Email is a double-edged sword. However, it is an excellent tool for follow-up, as well as time-shifting when working with others. You can send off emails before the week begins to get tasks in motion. That way they can be working for you while you do other important tasks. (Extra tip: You can send emails without reading emails. Stay out of your inbox until you are prepared to deal with it.)
Confirm Appointments – Always confirm appointments. Twice recently, I have had medical appointments cancel on me do to doctors schedules. (Funny when they charge patients for missed appointments.) Whether with a physician, plumber, or a client, always confirm your appointments in advance.
Delegate Tasks – Delegate tasks before the week begins, and before they are due. If you sit on them, you are guilty of being a productivity bottleneck in your organization. Get tasks delegated to the appropriate people whether that is a family member or a work colleague.
Review Your Goals – Take a moment before you start your week to reflect on your goals. Are you on the right path? Are you doing the right things that will move you closer to your goals? Make sure you are making conscious choices about your actions and where they will take you.
Preview Your Week
A weekly preview can be one of the most productive things you do each week.
It can make the difference between a smooth and stress free week, and one that goes off-the-rails and leaves you exhausted.
Always make sure you have a game plan in place before you begin.
Question: What does your weekly routine look like? And do you prepare for your week in advance? You can leave a comment by clicking here.