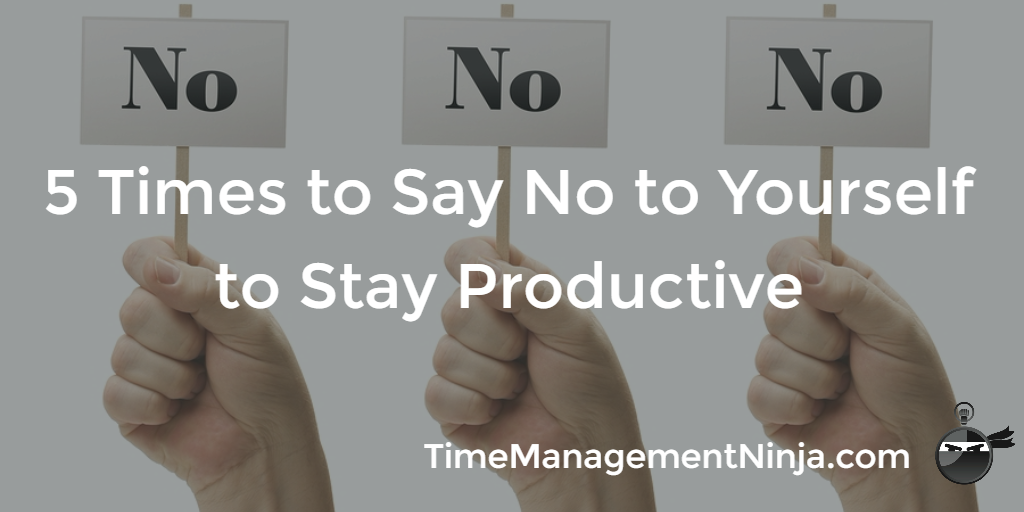 You have an important task or looming deadline.
Yet, you find yourself surfing the Internet, checking your social feeds, or reading the news.
To stay on task, sometimes you need to ask yourself, "What shouldn't I be doing right now?"
Saying No to Yourself
The other day, I was supposed to be completing a few important todos off my list. Yet, I found myself surfing the Internet.
I was looking for a random replacement part for a home project. Was it something I wanted to do? Sure. Was it something that needed to be done now? Absolutely not.
Of course, the "few moments" of searching the Internet turned into a half hour of surfing new home appliances and gadgets.
Before I knew it, I had wasted almost an hour of important time that I could have spent on my top priorities. Instead, those took a backseat to mindless Internet surfing.
Does this ever happen to you?
When you find yourself off track, you need to stop what you are doing and ask, "What shouldn't I be doing right now?"
"To get things done, sometimes you need to say No to yourself."
Here are 5 Times That You Need to Say No in Order to Get More Done:
Surfing the Internet – You could surf the Internet forever. It is expanding faster than you could ever consume it. While a great source of information, the web can be a tremendous time-waster. Make sure you say No to endless surfing when you should be working.
Doing Miscellaneous Tasks – Small tasks are attractive because they are easy, and you think they are going to be quick. However, if you start doing these small todos, they will take over your entire day. Stop and make sure you are doing the important tasks rather than the small and easy ones.
Playing on your Phone – Our phones are simply amazing. We don't go anywhere without them. Yet, as much as they can save time, they can waste our lives. Limit your phone time to doing tasks that improve your productivity rather than simply playing.
Responding to Interruptions – Interruptions come in many forms. While you often can't control them, you can determine how you respond to them. Say No to becoming distracted by interruptions that are less important than your current task.
Answering Your Phone – How often do you answer your phone when you shouldn't? Remember it is there for your convenience, not the other person's. Only answer your phone when you should.
Do What You Should Be Doing
Make sure you are doing what you should today.
If you drift, stop and ask, "What shouldn't I be doing right now?"
This simple question will often snap you back to your priorities. Use it to avoid the trivial things that come your way and stick with your day's most important work.
Question: What shouldn't you be doing today? You can leave a comment by clicking here.