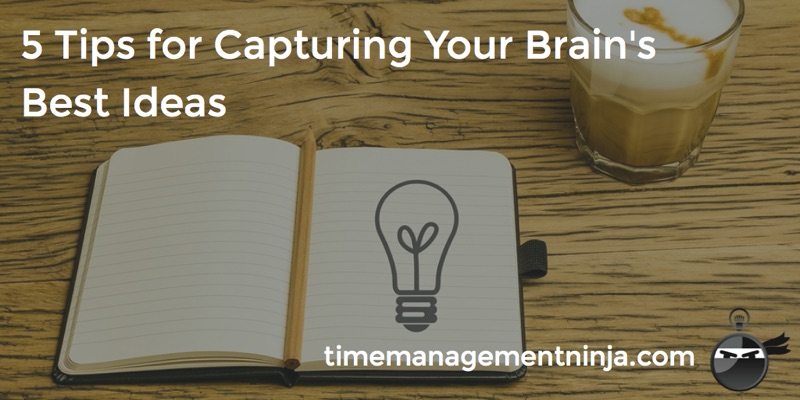 You often come up with your best ideas when you aren't thinking about it.
The trick is to make sure you capture these movements of brilliance.
When do you come up with your best ideas?
You Can't Force Ideas
If you have ever been part of a creative or brainstorming session, you know how difficult it is to think up original ideas.
In fact, there are entire disciplines and techniques dedicated to brainstorming new ideas. Most involve taking you out of your normal thinking, or even turning the process into a game.
The main idea is to get your mind out of conscious thinking and let your brain go on autopilot.
"You think of your best ideas when you don't think about it."
Your mind wanders many times throughout your day. The trick is to catch yourself when this happens and capture the magical ideas that come from it.
When does your mind wander?
In the shower
While working out/running
Doing chores or laundry
At the coffee shop
While you are reading
During your commute
Here are 5 Tips for Capturing Your Brain's Best Ideas:
Be Ready to Capture Ideas – Being ready to capture ideas when they happen is a mindset and a skill that can be honed. When your mind is wandering, you need to be prepared to catch yourself and capture that fleeting idea.
Have a Note-taking Tool – It could be a notebook, or the Notes app on your phone. Whatever it is, you need to always have it at-hand to document your latest thought.
Give Yourself Time to Relax – You need to give yourself time to unwind. At home, at work, or even in the car give your brain time to wander. (Great tip: Next time, try leaving the radio off during your commute.) You are not trying to force thoughts but trying to let them flow.

Habits Stimulate Creativity – Routines actually stimulate creativity. When your body is "going through the motions," your mind is free to wander. Let your habits drive your actions so that your mind can think. You will come up with some of your best ideas while you are doing the mundane.
Crazy Ideas Are Often the Best Ideas – Don't let the crazy ideas slip past you. Often, people will let crazy ideas pass them by as too "far out." Sometimes, these are the ones that can be crafted into genius.
Let Your Mind Do Its Thing
Often, your best ideas are the ones that your brain thinks up all by itself.
Genius ideas often come when you aren't thinking, and your brain is left to process all by itself.
Just be ready to capture those flashes of brilliance when they happen.
Question: When do you come up with your best ideas? You can leave a comment by clicking here.