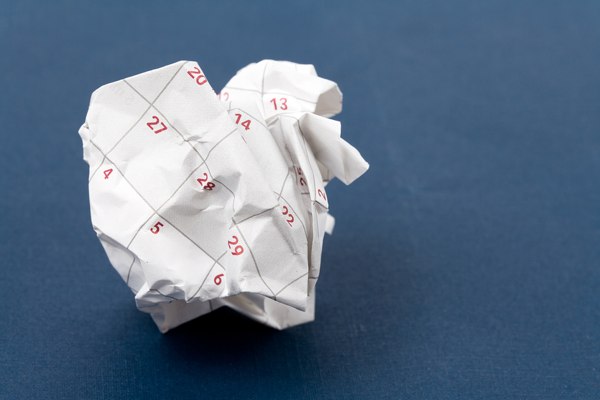 Staying on top of your calendar can be a real challenge. Your day is full of appointments, meeting invites, and other requests for your time.
You need to manage your calendar or it will be taken over by those who will steal your time bit-by-bit until you discover that you have none left for your own priorities.
The result is that your day's agenda becomes a mad rush from one event to the next. You feel a loss of control over your activities and at the end of your day find that you didn't spend any time on your most important work.
Here are 5 of the most common calendar mistakes you may be making:
Mistake #1 – Accepting All Meetings
In some companies, it is considered poor form to decline a meeting invite. Yet, these workplaces are also the ones that tend to be non-productive.
You need the ability to say NO to meeting requests or appointments when they do not align with your available time or work priorities.
Mistake #2 – Not Putting Yourself First
You need to be proactive instead of reactive to your calendar. Schedule your time first and only then accept appropriate requests from others.
If you make the mistake of not blocking your calendar in advance, you will find that it fills up entirely with other peoples' priorities… not yours.
Mistake #3 – Not Scheduling Time for Your Work
If your calendar only has meetings on it, then you aren't using it correctly. More important than meetings, is the time you should be scheduling with your work.
Make appointments for tough tasks right on your calendar. Make sure you allocate enough time so that you can complete your most important work.
Mistake #4 – Setting Impossible Meetings
Are you guilty of making impossible meeting schedules?
You can't be in two places at once, so don't book yourself in multiple meetings at the same time. As well, back-to-back meetings are physically impossible.
You can't be somewhere 9–10 and then at another meeting 10–11. Unless you can teleport from one location to another, you will be late.
Make sure your appointment schedule is possible without bending space and time.
Mistake #5 – Having Multiple Calendars
Avoid having multiple calendars in different locations. For example, separate calendars at work and at home.
You can have multiple sub-calendars that all appear in one application. In fact, syncing all of your electronic calendars to your smartphone is a great way to stay on top of things.
However, trying to maintain a paper calendar at home and an Outlook calendar at work is a recipe for missed appointments and confusion.
Mind Your Calendar
Your calendar needs attention each and every day.
Otherwise, it will be controlled by those who will sap your time for meetings, for appointments, and simply for their priorities.
Avoid these common mistakes and your calendar can be your best ally in keeping you on time and where you need to be.
Question: What else? What other calendars mistakes do you see people making? You can leave a comment by clicking here.