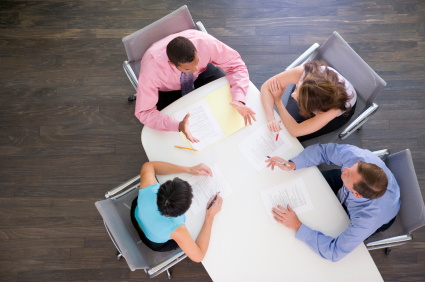 I recently observed a 1-hour long meeting at a client company.
– 15 minutes of the hour were spent waiting on those coming back from lunch.
– 10 minutes were spent restarting the meeting when the final participant arrived 25 minutes late.
– 10 minutes were spent retelling the details of the meeting organizer's vacation from the previous week.
– 10 were then spent reading out loud a new company policy that was emailed out the previous week.
– 5 minutes were then spent in Q&A to ensure there were no questions about the policy.
After 50 minutes, the meeting adjourned.
The participants then congratulated themselves for finishing early.
The leader actually said, "You can all have 10 minutes back to your day!"
Meeting to Waste Time
Hmm.
Another perspective on this meeting was that it was a complete waste of everyone's time.
The 10 minutes of discussion probably could have been a 2 minute phone call between two individuals.
"Most corporate meetings are simply gatherings of people, so that one person can get their work done by committee."
Oh, did I mention that 11 people were involved in this particular meeting?!?
Yes, eleven people sat around for an entire hour basically doing nothing.
Ever been to a meeting where an entire team sits around reading a memo or document that was sent out in advance?
"I was at my son's elementary school recently and they all sat in a circle and someone read a book out loud to the group.

Does this sound like your corporate meetings?"
Why do companies have group reading sessions? Does yours?
Minimize the Meetings
Most companies are paralyzed by meetings. They are the single biggest waste of time and payroll.
Here are 5 Ways to Minimize Your Company's Meetings:
Schedule Meetings for Less Time – Down with the 1-hour meeting! Schedule meetings for 30 minutes. Or better yet, 15 or 20. (Here are some more tips on "Cutting Your Meetings in Half.")
Invite Fewer People – Trying to have a conversation or get agreement from 11 people is like trying to herd cats. It is very difficult.
Make Decisions Before the Meeting – Follow Al Pittampalli's advice and ensure that decisions are made prior to the meeting. The meeting should be for debating or reviewing decisions, not for endlessly making decisions by committee. Nor should they be used for reading the memo that was sent out the previous week.
Start and End on Time – This should be a hard and fast rule. Start and end on time, no matter who is present. Those who miss the meeting can catch up later. (See 9 Ways to start the 9AM meeting on time.)
Right to Decline – Respect your employees enough to let them decide if they need to attend a particular meeting. Give them the "Right to Decline." If a meeting is not worthwhile, you will quickly know about it. People will vote with their time.
Down With the 1-Hour Meeting!
Meetings are one of the top time-wasters in corporate environments.
It is ironic that companies will spend hours of work questioning a $20 charge on an expense report, yet they allow anyone in the company to call meetings that cost thousands of dollars per hour.
So, the next time you go to schedule a meeting, stop and consider minimizing the time allotted.
I'll bet that you probably don't need an hour.
Are meetings a time-waster in your company?