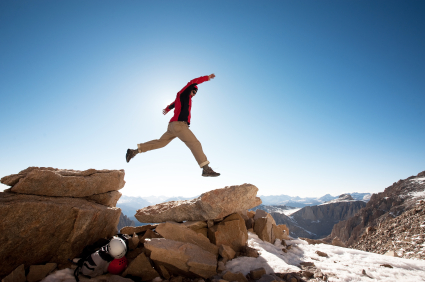 Are you bored?
Or more specifically, is your life boring?
We all get into routines.
We settle into our comfort zones.
It seems we do the same things every day.
Today, let's bust out of our comfortable lives.
Going Through The Motions
Does your life seem like you are living in the movie Groundhog Day?
You get up and do the same things each day.
Following the same routines can save us time.
And staying in our comfort zone is, well, comfortable.
But, it doesn't spark our imagination or stoke our productivity.
Sometimes, we get trapped in the status quo.
"If you let it, life will take you where it wants.

Instead, take your life where you want." 
Is your life the same each day?
Let's Not Be Boring
Doing new things sparks productivity in everything you do.
It is why having a hobby can make you more productive.
Today, let's do something new and different.
Let's keep life exciting and escape the boredom.
Here are "50 Ways to Outrun a Boring Life…"
Have goals, pursue them with passion.
Do something differently than you normally do.
Go for a 3 mile run.
Take a chance.
Take a different route to work.
Read a book for pleasure.
Write a book. (What is that idea you have had for years?)
Ask out the person that you have been afraid to approach.
Finish something you started.
Choose the road less travelled.
Do a favor for someone.
Build something small.
Make something big.
Tell someone that you care about them.
Do something you have never done.
Do something that you haven't done in years. (What do you miss doing?)
Eat something you have never tried before.
Order off the menu.
Write a fiction story. (How old were you when you last did that?)
Send a picture and a note to a friend.
Take the dog for a walk.
Do something that scares you. (What do you need to overcome?)
Help someone selflessly.
Don't follow the crowd.
Ask for that raise or promotion. (No one else is going to ask for you…)
Write a letter to that long lost friend.
Talk to someone you have been meaning to get to know. (Who is that person at work?)
Cook something from a magazine.
Sing when no one is watching.
Dance with someone you love.
Write down 5 things that you want to accomplish in the next year.
Write a letter to your future self. (See FutureMe.org)
Write a letter for your kids to read when they are older.
Stand up for yourself and what you believe in.
Stand up for someone else.
Volunteer your time.
As Steve Jobs said, be one of The Crazy Ones.
Go for a walk in the woods.
Play a competitive sport. (For fun!)
Go to a museum or aquarium.
Don't take yourself so seriously.
Laugh at work.
Spend time with your kids. (For kids, L-O-V-E is spelled T-I-M-E.)
Make a date with your spouse or significant other.
Kiss someone you love.
Give a hug to someone who needs it.
Dare to be different.
Be yourself, no matter what others think.
A Life Less Ordinary
We all get into our comfort zones.
Some stay there… indefinitely.
Instead, let's do something outside of the routine.
Today, live a life that is a little less ordinary.
What would you add to the list?