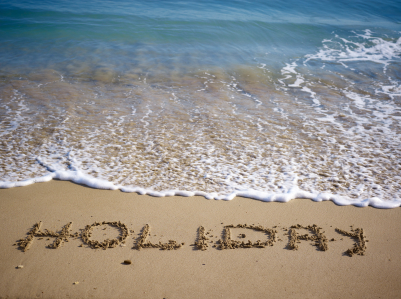 Do you need a day off from work?
When was the last time you took a vacation?
You probably are going to say, "I am too busy. I can't take day off."
But, maybe that is just what you need, one day off.
Take a 1 Day Vacation
Many people fail at taking their vacation. They say that their job does not permit them to get away for a few days or a week at a time.
If you can't take a couple of days off, maybe you should take just one.
Even for those saying that their job is so hectic that their workplace cannot survive without them, I challenge you to get away.
Whatever your job or obligations, you can get away for one day. I guarantee it.
And after all, you may need to get away, if only for a day.
21 Things to Do On a 1 Day Vacation
You are probably thinking that 1 day away from your job is not enough. However, don't underestimate the power of a day off to recharge your internal batteries.
You can regain your edge. Your energy. And your sense of self.
Here are 21 Things You Can Do On A 1 Day Vacation:
Spend it with someone you love.
Read an entire book.
Practice something, anything.
Sleep, as much as you want.
Disconnect with all things electronic.
Reconnect with yourself.
Get something important done that has been on the back burner.
Do an activity that you enjoy. Do you have a hobby to fuel your inner passion?
Workout. It feels great.
Go out to lunch with a friend.
Learn something. What new skill do you need?
Do something you have never done before. Scare yourself, just a little bit.
Take a bite out of that elephant. Or whatever big project has been hanging out.
Do something outdoors. Remind yourself that life is not contained in an office building.
Write letters to 5 friends or relatives.
Go on a tour of your own city or town. Discover something new.
Reflect and write in your journal.
Go and see someone in person that you have been meaning to spend time with.
Start something. Take the 1st step on a new endeavor. You can't finish if you don't start.
Catch up. Some would say that this isn't a vacation. But, sometimes you need to get out of the hole that you have dug for yourself.
Review your goals and dreams. This is something we often do not get to during the normal hustle of daily life.
Just 1 Day Off
If you don't have time to take an extended vacation, go for just one day.
We all need to recharge, reinvigorate, and recenter ourselves.
That one day off will do you good.
It may be just what you need.
Do you ever take a 1 Day Vacation?  What would you do on your day off?