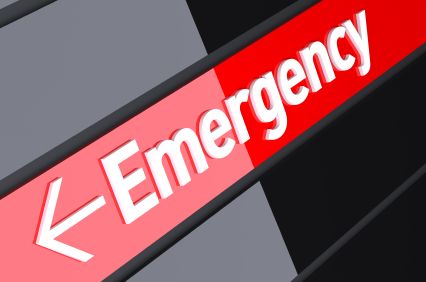 We worry about too many things.
We panic too often. And, we let too many things scare us.
Many of these things never happen.
Or they turn out to be not as bad as we imagined.
Truth be told, there are very few true emergencies in life.
It is important to be able to keep your bearings in the face of urgent and perceived emergencies.
It's an Emergency!
How you ever found yourself saying, "I can't right now, I am dealing with an emergency."
What was it? Was it really an emergency?
Or was it something that appeared urgent?
Urgent issues interrupt our day. They often derail our priorities.
Sometimes they are other people's fire drills. Sometimes, they are our own.
But, what is an emergency?
emergency – "a serious, unexpected, an often dangerous situation requiring immediate action."
In our urgent, must have it now society, we mistake many things for emergencies.
So, how do you tell if that latest urgent matter is worth having a panic attack over?
A good personal thumb rule, is to ask yourself whether or not it involves physical harm to people. (Notice the word "dangerous" in the above definition.)
Lots of other things can be replaced. Money. Property. Other items.
People cannot be replaced.
So, is your emergency actually dangerous?
Or are you stressing about something that is much less serious?
Don't Panic, It's Not Worth It
If you let ever little bit of drama get you excited, then you are going to live your life like a pinball constantly ricocheting from one urgency to the next.
This is a very stressful way to live. And not very fun, either.
Instead, let's try to keep some perspective on what is truly an emergency.
Here are 5 Reasons Why it is Not Worth Panicking in the Face of that Emergency:
99% of the Things We Worry About Never Happen – If everything that people worried about came to be, the planet would no longer be here. The truth is that the majority of things that we worry about never come to pass. Don't wear yourself out worrying about what "might" happen. Instead focus your attention on the things that you can affect. Often, this means looking at ourselves (the only thing we can control) and not worrying so much about others (those that we cannot control).
Very Few Decisions Are Permanent – Many of us fear the decisions that we make. We become paralyzed with fear that we may make a bad choice. Or choose a road that we cannot get back from. However, there are very few decisions in life that you cannot change at a later time. Even career and job choices are not permanent.
You Have to Take Some Risks – Many of us fear the consequences of our perceived emergencies. Yet, we will all encounter some drama and unexpected events. That is life. It is normal, unless you plan to live locked in your home never to come out. You have to take some risks, and you have to be willing to let yourself fail when appropriate.
Sometimes Bad Isn't All Bad – Ironically, many of the emergencies that we fear turn out to not be that bad. The results are no where as catastrophic as we predicted. Additionally, many times there is opportunity in the bad. Opportunity for growth, to learn something new, or for a new opportunity.
Some Fires Should Not Be Put Out – Some people like to create emergencies for others. They enjoy bringing their drama to you and others. However, you need to be able to resist other people's fire drills that are disguised as emergencies. Just because your co-worker did not do their job for the past month doesn't mean that you should be ruining your vacation to save them. Some fires should not be put out. It only hides bigger problems. Sometimes you have to let things happen.
Keep Your Head
The next time those emergency bells go off, ask yourself, "Is this really an emergency? Or could you be overreacting?"
Keep your head while others are panicking.
Prevent urgent matters from interrupting your priorities.
And don't let worry and stress rule your life.
It is amazing what you can accomplish when you are calm in the face of perceived doom.
Do you let emergencies rules your life? How do you deal with faced with one?