I am always striving to make Time Management Ninja more useful for you.
Today, I want your input and feedback in order to help TMN deliver even more value.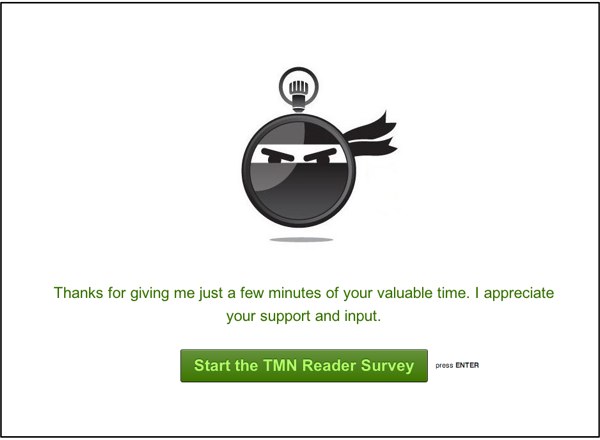 Please take a few minutes to fill out the 2014 TMN Reader Survey. This survey went out yesterday via the weekly newsletter, however I am posting it here to maximize its exposure.
By clicking the survey above you can share your productivity needs, wants, and challenges. This will in turn help me provide better material, posts, and topics on TMN.
Four Minute Survey
Your time is valuable.
The survey will take only a few minutes to complete. It is designed to work whether you are on a phone, tablet, or desktop. As well, it is completely anonymous, so you don't have to provide any personal info.
So, please click the image above or this link to take my 2014 TMN Survey, and help me make TMN even better for you.
Thanks and best wishes,
Craig