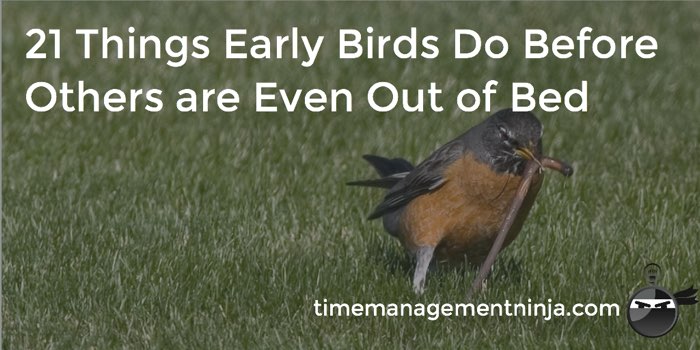 The Early bird does get the worm.
As well, he or she, also gets a head start on the world.
Are you an early bird? And if so, what do you get done before others are even out of bed in the morning?
Do the Early Work
The power of an early start to your day can make all the difference. It can be the extra edge that changes your day from chaotic to productive.
The early bird knows that one of the best times of the day to get things done is while everyone else is still in bed.
"The early bird gets their work done while the rest of the world is still at rest."
If you are not an early riser currently… you can be. It is possible to be the early bird.
What could you get done if you got up earlier?
Here are 21 Things You Could Do Before Others are Even Out of Bed:
Workout – You won't do that workout during lunch or after work. It just doesn't happen. The best time to workout is first thing in your day. Get it done and over with.
Read a Book – You want to read more books but you never get around to it. Read first thing in the morning, even if it is only a few pages.
Learn something new – If you aren't learning, you are falling behind in life. Take a few minutes to learn something new, or perhaps a fact that has been eluding you. With the Internet, YouTube, and Wikipedia, you can learn almost anything in only a few minutes.
Write – For those that want to write, finding the time can be hard. Writing in the morning can get your brain flowing. One of the best times to write is while the world is still quiet.
Complete overdue tasks – No one likes the feeling of overdue tasks haunting them. The early bird gets rid of late tasks before the day starts anew.
Catch up on Email – Email can be a big time-waster. And checking it first thing in the AM, can be a dangerous procrastination black hole. However, if done right, it can be one of the best times to clear your inbox, while others are not busy filling it up.
Get Ahead of Email – One of the best times to send email is before others get up. Why? Because it ends up at the top of others' inboxes. Get quicker responses by placing your emails on top.
Groom your todo List – Early birds groom their todo list before they start their busy day so that they know what they need to accomplish.
Review your calendar – Check your appointments for any last-minute changes or conflicts. Confirm any appointments that you are unsure of.
Plan your day – Unlike those that wake and rush into their day, Early birds don't start their day without a plan.
Do your Hobby – Highly productive people usually have a hobby. Something that drives their passion. Hobbies can be a good motivator in all areas of your life.
Work on Your Side Hustle – Technology has forever changed our work world, and many people now have a blog, online site, or webstore. Many early birds use the beginning of the day to work on their side project.
Get Quiet Time – We live in a noisy world. One of the few times you can get some quiet time is when the world is asleep. (Quiet your phone, as well.)
Just Think – When was the last time you had "Think Time?" Spend 15-30 minutes just thinking about your life, your family, your work, and your goals.
Write in Your Journal – Journaling is a productive activity that often gets put aside due to the hustle of the day. One of the best times to record your thoughts is during the quiet of the AM.
Study for a degree or certification – Night school or morning school? With the Internet, it is possible to get a certification or degree from the comfort of your home on your laptop or tablet.
Take an online course – You don't have to get a degree to advance your knowledge. Take a class or online course on a specific subject that interests you or would advance your career. You can find a course on practically anything.
Identify your most Important Tasks – Early birds pick their most important tasks and get those done first. (What are the top five things you need to do today?)
Block your Time – Before you let others get to your calendar, block your calendar for your important tasks. Best to do this before others are up and at it.
Clean up – You should "always be cleaning." What cleaning project could you put 10 minutes into each morning?
Work on your Goals – Those things that you want to do, but never get to… big goals. Things that you want to accomplish in your lifetime. You can work on them while the rest of the world sleeps.
Get Things Done Early
The early bird really does get more done.
If you aren't getting your work done during the day, you need to try being an early bird.
Think of all the things you could get done while others are sleeping.
What do you do before your day begins?
Question: What early bird things do you get done while others are still in bed? You can leave a comment by clicking here.