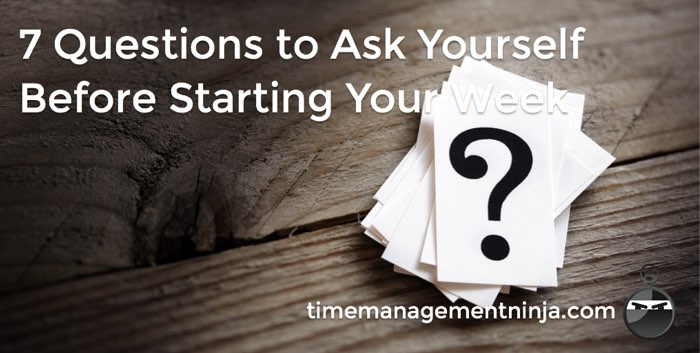 You roll out of bed and get ready for Monday.
It's the start of a new week.
Are you prepared for what's coming your way?
Better yet, do you even know what you are doing and where you are headed?
Start Your Week with a Plan
How do you begin your week?
Getting a productive start requires a plan.
Do you have a one? Or are you just winging it?
Honestly, most people don't even know what they are going to wear on Monday morning, let alone what they need to do in the coming week.
"Most people start their week without a plan and not knowing what they need to get done."
You are setting yourself up for a rough start if you go into the week not knowing what you need to accomplish.
And as the saying goes, knowing is half the battle.
Here are 7 Questions to Ask Yourself Before Starting Your Week:
What do I need to do? – The first thing you need to know is what you need to get done. Review your todo list in advance so that you can be prepared and allocate your time by your priorities.
Where do I need to be? – Checking your calendar before the week's rush begins allows you to prepare for appointments and meetings. Do you need to move, confirm, or adjust any of them? As well, make sure you schedule time on your calendar for your important work.
What do I need to catch up on? – What didn't you finish last week? Don't start the week as a "blank slate" and forget everything that was in progress previously. Get those overdo tasks done ASAP, so that you can concentrate on moving forward.
What do I need to get ahead of? – What deadlines are looming? What deliverables can you finish early? Get ahead of your tasks so that you are working from a proactive stance instead of constantly having to react to what is due next.
What projects do I have in progress? – In addition to your todos, make sure you are looking at your projects. Otherwise, you will be so focused on singular tasks that you lose sight of the bigger picture.
What is one thing I should do this week that I have been putting off? – Check your Someday-Maybe list and decide to do one task this week that you would have otherwise avoided.
What am I doing to reach my goals? – BIG Goals are accomplished in many small consecutive steps. Are you pursuing your BIG goals during your week or are they taking a backseat to everything else that is on your list?
Ask Yourself
Before your start your week, take the time to formulate your action plan.
Even a few minutes can make the difference between a rushed chaotic week and one that is full of purpose and productive action.
Ask yourself the above questions and you will be well on your way to knowing what you need to get done this week.
Question: What do you need to know in order to start your week? You can leave a comment by clicking here.