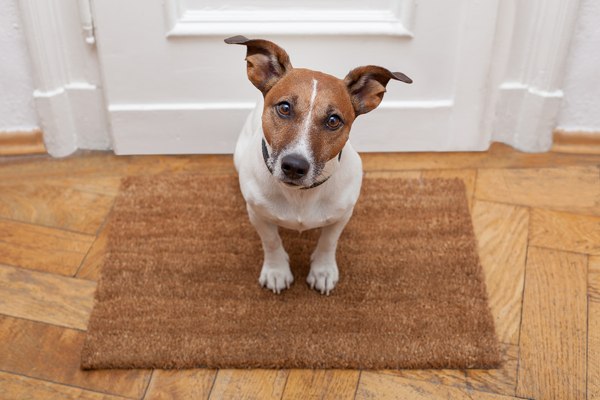 It's time to go to work.
You are about to leave, but you can't seem to get out the front door.
It's not as easy as it sounds some days.
Is your morning departure a mad, crazy dash to get out the door and to work on time?
Leaving Is Easier Said Than Done
Ever have one of those mornings where it takes you forever to get out the front door?
(Inexplicably, it seems to happen most often on Mondays.)
You are just about to leave when life happens.
You can't find your shoes. The dog needs to go out. And then the car keys are missing.
"If getting out the door is so easy, why do we all have so much trouble with it?" (Tweet this Quote)
Just when things can't get any more complicated… the first spill of the day happens.
It's almost enough to make you pack it in, and head back-to-bed.
Getting Out the Door On Time
We've all had a morning like this at some point.
The best way to avoid stress getting ready for your day is to apply some preparation and common sense.
(Unfortunately, neither are very common.)
Here are 10 Tips to Help You Get Out the Door on Time:
Prepare the Night Before – Common sense, maybe. Yet, it's very uncommon. Don't put off until morning what you could have done the night before. Preparing beforehand will also give you extra time to react if you realize a surprise on your calendar for the next day.
Lay Your Clothes Out – This may sound like one for the kids, but don't underestimate its power. We have all done the clothes scavenger hunt at some point. It's not fun when you are running  late. And if you are going on a trip, have your bags packed and by the door before you go to bed.
Put Things Where You Can't Forget Them – If you don't want to forget that book that you need to bring today, put it by the door so that you'll trip over it leaving. Better yet, put it in the car. That will ensure that when you leave by the other door, you won't forget it.
Get Up Early – Want a head start? Get up early. The early morning hours are magically productive. Time shift the start of your day and get ahead of everyone else, traffic, and more. (And yes, you can be an early bird.)
Allocate Extra Time – Getting ready always takes "just a little longer" than you planned. Having a buffer of extra time can make the difference between a calm start to your day, and an all out sprint that leaves you sweating upon arrival at work.
Expect the Unexpected – If you are planned down the very last second, you won't make it. Something will come up. Life will happen. Don't let spills or other obstacles throw you off track or make you lose your cool. Remember, there are very few true emergencies in life.
Plan for the Little Things – Plan for the little things like taking the dog out, packing lunches, and putting the trash out. Otherwise, you will be rushing to leave only to find the dog waiting at the door needing to go outside yet.
Go to Bed Early – Getting enough sleep is important to a good start to the day. It also helps with getting up early. Do you really need to stay up late watching hours of meaningless TV or surfing endless news or gossip sites?
Get Yourself Ready First – Many people tend to do the opposite, get the kids or pets ready first, and then scramble to get themselves ready. This method rarely works. Instead, get yourself ready first and then take care of the others in your household.
Lose the News, Internet, TV, Etc. – Don't watch the news or surf the internet before leaving in the morning. That one web search will turn into 30 minutes of untimely surfing.
Prepare to Leave
We've all done the mad morning dash at some point.
Getting out of the door shouldn't be stressful, crazy, or even dangerous.
With a little common sense and a bit of uncommon action, getting out the door can be a stress-free start to your day.
Question: How do you get out the door on time? You can leave a comment by clicking here.