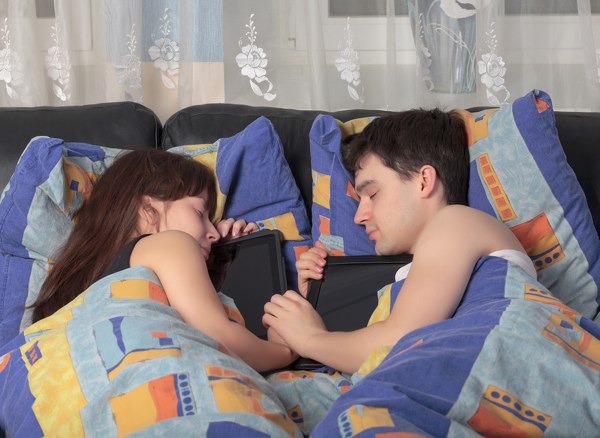 Do you sleep with your smartphone? (Or iPad?)
Is the last thing you do before bed to check email or your social networks?
Have you considered that you might be having an affair… with your phone?
Do You Love Your Phone Too Much?
When Steve Jobs was inspiring the team that created the iPhone, he told them to, "create a device that people would love so much, they'd never leave the house without it."
Well, it's ironic how prophetic those words turned out to be.
I'll bet you take your phone everywhere. To work, to play, to the bathroom, and yes, even to bed.
However, has your phone taken over your life?
Interrupting you? Dominating your attention? Basically, ruling your life?
"If you want work-life balance, stop having an affair with your smartphone."
Do you rule your phone or does it rule you?
Are You Having an Affair With Your Smartphone?
Your phone is there for your convenience.
Don't let it take over your life. Don't let it run your life.
Don't let it ruin the relationships with those that you truly care about.
Here are 5 Signs You May Be Having a an Affair With Your Smartphone:
Taking Your Phone/iPad to Bed – When you get into bed, does your smartphone join you? Is it the last "person" that you talk to before going to bed?
Checking Email Before Bed – Do you check email or Facebook before going to bed? And then again in the morning before getting up?
Ignoring Your Family or Spouse – Does your family have to constantly compete for attention with your devices? Do they have to "snap you back to reality" when you are in another world with your phone?
Answering Your Phone When You Are With Others – Do you answer your phone no matter where you are or what you are doing? (Hint: If you are answering your phone in the bathroom, you have lost control…)
Letting Your Phone Interrupt Your Life – Do you prioritize phone beeps, dings, and chimes above people who you are meeting with in person?
Be Just Friends With Your Phone
Take back control of your relationship with your devices.
Your smartphone can be a good friend, just make sure you aren't having an affair with it.
So, put that phone down before you get into bed.
Your stress levels will thank you. Your significant other will thank you.
And you might just sleep a little better.
Question: Do you sleep with your smartphone or iPad?