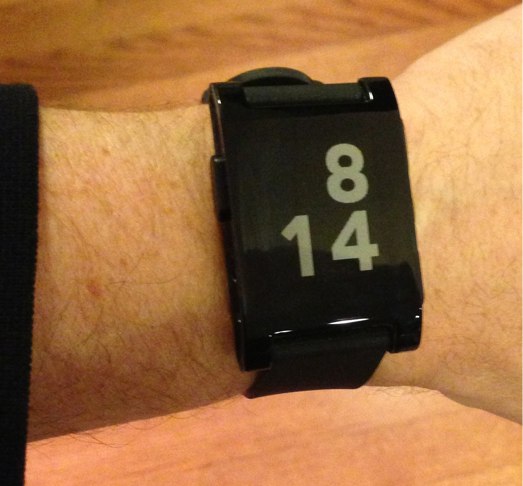 I haven't worn a watch in years.
My phone has been my timepiece of choice for a long time.
However, the Pebble smartwatch changed all of that this past week.
Would you wear a watch that integrates with your phone for calls and messages?
A Phone on Your Wrist?
Apparently, many people would wear a watch that ties into their phone.
The Pebble smartwatch was the most successful Kickstarter project to date. The project raised $10.2M (yes, Million) to build the Pebble. The media was awash with news about the Pebble smartwatch launch this week. (This also stoked many a rumor of an Apple iWatch.)
The Pebble is a smartwatch that links to your iOS or Android smartphone via Bluetooth. It allows messages, call alerts, and more to be passed from your phone to your wrist.
I received my Pebble watch last Friday, and have been using it for about a week now.
A Work in Progress
First things first, the Pebble is a work in progress.
Out the box, there was already a software update waiting.
Connecting the Pebble to my iPhone was straightforward. However, early on, I had several instances when the Pebble lost the connection requiring a reset. (This issue seemed to go away after a second software update was released.)
As well, I had one phone call where the watch kept vibrating for the duration of the call.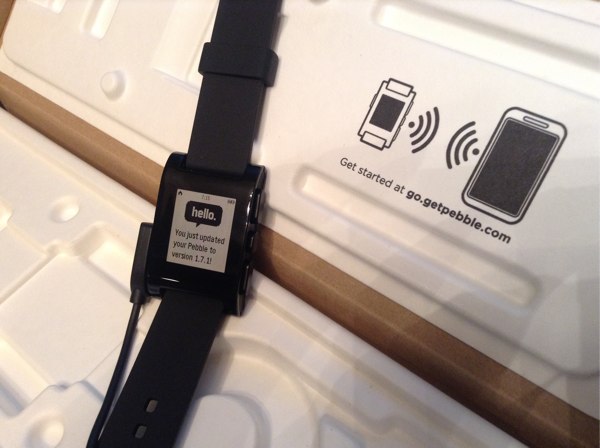 There are no apps available for the Pebble as of this writing. Just a few downloadable custom "watchfaces."
With these limitations, the Pebble has still changed the way I interact with my iPhone.
There are three main features I am using with my Pebble:
Text Messages – Pebble receives text messages (and iMessages) from my iPhone and I can read them on the watch. This seems like a simple thing, yet it is very nice to not have to pull my phone out during a meeting. I can quickly see the message with a glance at my wrist. Much less intrusive.
Answer/Deny Calls – My favorite feature of the Pebble is the ability to screen calls via the watch. When my phone rings, I can see the name of the caller on the Pebble and accept/deny the call with a quick button press. Again, very handy to prevent interruptions.
Silent Alarm – I love silent alarms. The Pebble has a simply vibrating alarm that allows multiple times to be set for reminders. I use it to wake me up in the mornings without waking my wife. (I used to use a Lark to silently wake me, however the Pebble immediately replaced it.)
More Interruptions or Less?
As I used the Pebble for the first week, it received lots of attention from me.
It also got a lot attention from others, who were intrigued by the concept. There was a mix of geeky reactions and jealousy.
Overall, I had mixed feelings as to whether the Pebble was preventing interruptions or causing more distractions.
On one hand, I was able to stop many interruptions by a quick glance or button press on my wrist.
However, every text and call caused a vibration on my watch. (I could always put my phone in "Do Not Disturb" mode.)
Where Does Pebble Go from Here?
Where are we headed with devices like the Pebble?
Some people doubt that we will be wearing devices like this. Then again, if I told you ten years ago that we could be carrying our computers in our pockets, you would have also doubted.
I haven't worn a watch in years, and the Pebble smartwatch changed that overnight.
For now, it's not leaving my wrist.
Question: Would you wear a watch that integrates with your smartphone?