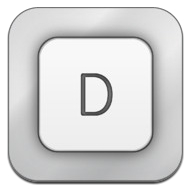 I recently discovered a great app for capturing ideas.
In fact, many of my recent blog posts started as a few random notes that I captured with this app.
It is now in my iPhone dock, right next to my todo list.
This app is appropriately named, "Drafts."
And it will capture drafts of all your great ideas.
Capture That Passing Thought
We all have those great ideas.
They come and then often, they are gone!
If only you had written that idea down.
I used to carry a pocket Moleskine for just this task.
Now, I carry just my iPhone for most purposes.
Recently, I started using an app that has changed the way I capture ideas.
It is called Drafts, and all it does is capture ideas.
The minimalist interface supports one task: capturing ideas.

It does this better than any other app I have used.
When you open the app, it defaults to a new blank note.
It's that simple. With 1 tap, I am ready to start typing the great idea that just crossed my mind.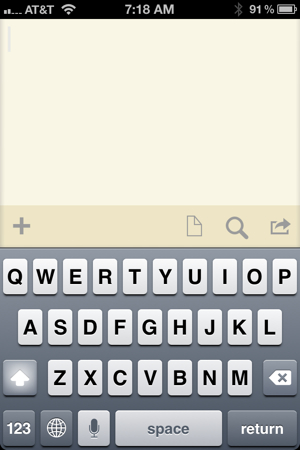 The user interface is minimal, there is no bloat.
Most apps required several clicks to start a new note and get started. Even with Evernote, there are several extra actions required, including tapping in the actual text area.
With Drafts, there is no extra effort. Each time you open the app, you get a new place to capture an idea.You don't even have to hit "Save." Just shut your phone off or hit home.
What To Do With Those Ideas?
Drafts is great at capturing ideas, but what do you with them later?
Drafts has the ability to send, share, and export your ideas to almost anywhere.
There are almost too many to options to mention here. However, the best part is that you can turn off the ones that you don't use. I did this to minimize the choices in my menu.
Here are some of my favorites:
– Email or message
– Send to Dropbox (and a special "append to file…")
– Send to Things (to create a todo)
– Send to Evernote
– Send to Day One (for journal entries)
– Send to Twitter or Buffer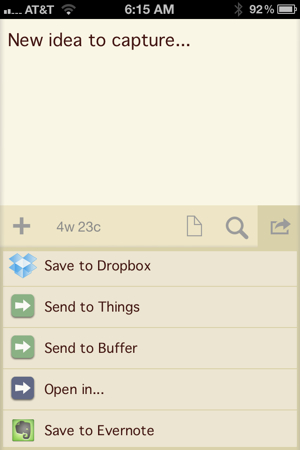 With version 2.0, Drafts is now available as an iPad app, as well.
It features a fast-syncing option that keeps your ideas in sync across your iPhone and iPad. It worked like magic in my early testing.
Here is what Drafts looks like on the iPad: (with menu showing)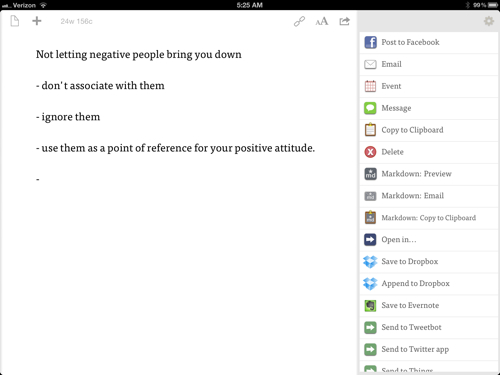 Let "Drafts" Catch Your Ideas
I capture my big ideas in Drafts, and then later send them wherever I need them.
The new 2.0 version improves on what was already a great minimalist app.
If you need a capture app for your iPhone, I highly recommend Drafts.
Question: What app do you use to capture those fleeting ideas?