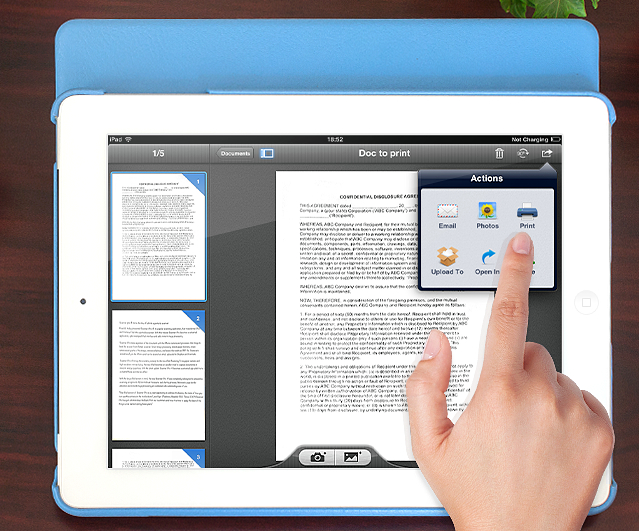 Have you ever been on the road and wish you could scan a document?
Or in a meeting and needed to share a hard copy document?
However, your scanner was back in your office…
Today, I want to show you an easy solution.
My iPad has replaced many devices and one of those is a traditional document scanner.
Scanning Documents With Your iPad
I was recently in a business situation where we needed to execute an non-disclosure agreement.
Instead of faxing documents back-and-forth for signature, we scanned the documents (we were given hard copies only). We then emailed them to the remote participants who printed, signed, and sent them back.
This sounds like a lot of work.
However all of this was done in less than 5 minutes via our iPads and using a powerful app called Scanner Pro.
Scanner Pro by Readdle
There are several iOS apps out there that will let you snap photos of your documents.
However, my favorite scanning app for iPad is Scanner Pro by Readdle.
I use it all the time on my iPad. The improved camera on the new iPad makes for a great document scanner.
And Scanner Pro makes it simple to scan items ranging from simple sheets to multi-page multi-format documents.
Using your iPad with Scanner Pro is better than a traditional scanner in many regards. It is extremely fast and can be carried with you no matter where you are.

It is perfect for scanning items that you wouldn't or couldn't put through a traditional scanner. 
Some of Scanner Pro's Powerful Features:
Multi-page/Multi-format – It is simple to scan multi-page documents. It doesn't matter if they are portrait or landscape, and the app makes it easy to rearrange pages within the document.
PDF – Share scanned docs in standard PDF format or JPG if you prefer images.
Folders – You can create document folders to keep your document library neat and organized. I keep different areas for work, home, and TMN.
iPhone and iPad – Scanner Pro is a universal app that works on both iPad and iPhone. (Meaning you only have to purchase it once.)
Share Almost Anywhere  – Once you scan your documents, you can share or save them in many different services including Dropbox, Email, Google Docs and more.
Syncs Via iCloud – Scanner Pro syncs between your devices via iCloud. So, if you scan a document via your iPad and later want to access if from your iPhone, it is already there.
To see how quick and easy it is to use Scanner Pro with your iPad, watch this short video:
httpvh://youtu.be/qkMMT7E7BRA
 If you cannot see the video, click here to view it.
A Scanner In Your Bag (or Pocket)
With Scanner Pro and your iPad you can have a scanner with you no matter where you go.
(And with the iPhone version you can even have a scanner in your pocket…)
So, the next time you find yourself needing to quickly scan a document on-the-go simply grab your iPad.
If you aren't already using your iPad as a scanner, you need to check out Scanner Pro in the App Store.
Question: Do you use your iPad to scan documents on-the-go? What is your most creative use?