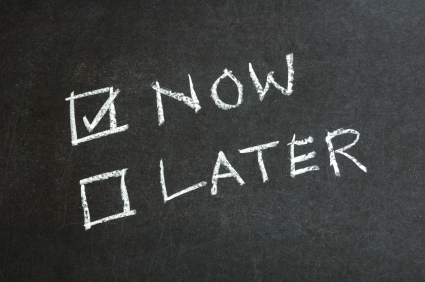 We get ready to do something.
And then we hesitate.
We stop.
We do something else.
We do anything else.
Sounds familiar?
Today, just do.
Putting It Off.
We often put down small tasks that should take just a minute.
– It will only take me a minute to put this away… I'll do it later.
– It is a small job to clean this up… I'll get to it later.
– I have to respond to this… but I'll put it off.
However, when you put down a few of these tasks, they pile up quickly.
Suddenly, you have an entire garage to clean out.
Or an inbox with hundreds (or thousands!) of emails.
Some people say, "I'll do this later."

Those who succeed are the ones who just do.
It is easy to not take action.
It requires discipline to do the things that are often right in front of us.
Just Do Something.
Do Something… Anything… But, do it now.
Do something on your todo list.
Do something great.
Do something you have been putting off.
Do something you don't want to do.
Do something for yourself.
Do something for someone you love.
Do something for someone that needs help.
Do something BIG.
Do something unexpected.
Do something before its deadline.
Do something you need to do.
Do something that you don't have time for.
Do something you are proud of.
Do something that matters.
Do something passionate.
Do something instead of talking about it.
Do anything.
Here's the secret…
Just do it now.
Now Beats Later.
Sometimes you just need to do.
Action begets action.
Just Do It Now.
Period.
What do you need to do now?