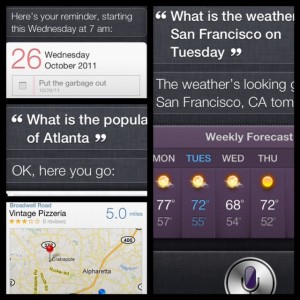 Siri has gotten a lot of attention since the launch of the iPhone 4S.
The media has had a field day posting about all the silly things you can make Siri say.
But, what about using Siri to actually get things done?
After all, having a personal digital assistant is all about saving time.
Today, I want to show you some of the top productivity uses for Siri.
Siri is Seriously Amazing
Siri is quite amazing.
Even though it is being called a Beta, which is rare for Apple, it is a truly impressive technology. Like most Apple products, there is no real instruction manual.
The genius is that you just speak to Siri. Siri even knows when you are in a conversation and your next question relates to the previous.
I am not sure that Siri will be used for dictation, although you can use it in many applications right from the keyboard.
Instead, Siri excels at understanding spoken commands and interpreting their meaning.
For example, you don't have to ask, "What is the weather today?"
You can say, "It is going to be hot today?" "Does it look like rain today?" or even "Should I bring an umbrella today?"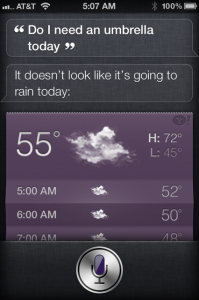 Let's look at some of the best simple tasks that Siri can do for you.
Siri Gets It Done
Siri is really a new way to interact with your phone.
Most of the things Siri can do, are already on your phone. However, Siri can help you do them faster, easier, and while you are doing other things.
Instead of doing it yourself, just ask Siri to…
– Search the web for that piece of information
– Get directions to where you want to go
– Look up that contact info that you need
– Create a reminder for a specific time or place
For example, when on a business trip in an unfamiliar city, instead of looking up directions yourself, you can simply say, "Siri, how do I get to the airport."
Within moments, you have driving directions on your screen.
Here are my Top Ten Things Siri can do:
Send Quick Text Messages – "Tell My Wife I am leaving work." "Tell Tom Smith, I'll be there in 30 minutes." 
Get Directions – "How do I get to Vintage Pizza?" "Get me directions to the library." 
Set Alarms and Timers – "Wake me up at 5AM tomorrow." "Set a timer for 30 minutes." 
Create Reminders – "Remind me tomorrow to call the doctor." "Remind me every Wednesday at 7AM to put the garbage out." 
Call people – "Call my Mother." "Call Sammy at Work"
Get Info From Your Phone – "What is Tom's Mobile #?" "When is Susie's birthday?" 
Calendar Queries – "I am free on Saturday?" "What appointments do I have on January 15?"
Look Up the Time and Weather – "What is the weather in San Francisco for Tuesday?" "What time is it in Dubai?"
Search the Web – "What is the population of Atlanta?" "What is the capital of Thailand?"
Simple Commands – "Turn my Alarm off." "Make a note: I parked in the green lot, row C4."
Siri, Make It So!
The other day I was walking to my car and I found myself talking to Siri…
"Tell my wife I am leaving work."
"What reminders do I still have today?"
"Call my friend Shane, mobile."
Siri will change how we interact with our devices. It is exciting to imagine how it will continue to develop.
Four years ago, the original iPhone didn't even have downloadable apps. Where will Siri be four years from now?
And yes, if you are feeling Star Trekish, Siri understands…
Siri: "Shall I send the message?"
Me: "Make it so!"
Siri: "OK. I'll send it."
What do you use Siri to do?