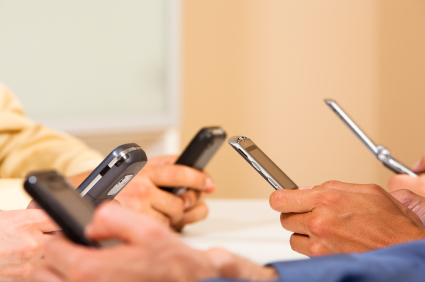 I was recently in a meeting with 8 people in the room.  (Which is about 5 too many…)
I looked around and observed that over half of the participants were working on either a laptop, cellphone or tablet.
They were not "in the meeting." In fact, they were barely participating. Their minds were elsewhere.
Why have a meeting if people are going to do other work?
Maybe we need to eliminate all these technology distractions.
How would things be different?
Gadgets of Mass Distraction
What if you banned technology from your next meeting?
No phones.
No tablets.
No laptops.
Just people.
Maybe a pen and some paper.
Without all the clicking, beeping, and ringing…

How would your meetings transform?
Be warned, you might get some shocked participants.
You might even get some revolt, "But, I need my laptop… to um, take notes!"
Instead, tell your team members to bring a notebook. (A good moleskine is the perfect size.)
Ban Tech for Better Meetings
Most companies need better meetings. (See Al Pittampalli's book here.)
Others still need to skip meetings entirely.
However, many suffer from technology overload. If you cannot get through a discussion without a cellphone buzzing or someone click-clacking on a laptop, then it may be time to try a different tactic.
Here are 5 Reasons You Should Ban Tech From Your Next Meeting:
Shorter Meetings – With fewer distractions and interruptions your meetings will not take as long. You might even be able to cut them in half.
Better Decisions – When people's mind are "in" the discussion they can provide more insightful input. Your team will make better decisions if their heads are "in the game."
Fewer Interruptions – Every time a phone rings or some stops to read an email, you have to restart your meeting. Time, ideas, and productivity are negatively impacted. We have all been in the meeting where the table continues to hum with sound of vibrating cell phones. It's not just annoying, it's counter-productive.
More Active Participants – When your attendees are not doing other work, they are more likely to contribute to the issue at hand. Ever been in a meeting where all heads are down in laptops? I can guarantee you that people are not paying attention, nor are they contributing.
Less Meetings – How many meetings fail, only to spawn a follow-up meeting? By keeping people involved, you will actually require less meetings. Every been to a "series" of meetings that should have been one gathering?
Check All Gadgets At the Door
I challenge you to ban technology in your next meeting.
Tell attendees to leave their laptops and phones at their desk.
Or, check them at the door. Have a side table or basket for attendees to surrender their gadgets.
You just might find that you have shorter, better, and yes more productive meetings.
Do your meetings get interrupted by technology? Share your experiences below.