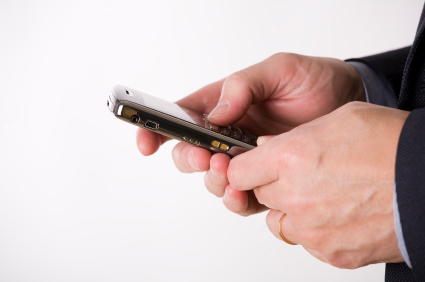 It is no secret that I am a big technology fan. I have lots of gadgets.
My iPhone and iPad travel with me almost everywhere.
But, at some point, you have to ask "Do your gadgets make you more productive?"
Do they set you free? Or hold you back?
Today, let's look at whether or not your gadgets save you time.
And how to keep them productive.
Do Your Gadgets Get Things Done?
Do your gadgets make you more productive?
Maybe they do.
But, I'll bet you can also name several ways that they waste time. From distractions to games to tech difficulties, many of the gadgets that we carry actually take up time.
"Does your tech save you time? Or does it take up more time than it's worth?"
Some questions to ask yourself:
Do you really need to check your email every 10 minutes?
Are your gadgets life-enablers that set you free or simply a technology leash that holds you back?
Is that smartphone really smart, or are you using it to play Angry Birds?
Is immediately looking up every unknown fact on Google really benefitting you?
Tool or Toy?
Technology tools are very powerful when they are used for your advantage.
From video calls to mobile banking to other amazing apps, we can do things from almost anywhere that were only dreams a few years ago.
However, it important to keep that technology in check. Otherwise, we can find ourselves playing, surfing, and futzing with our gadgets until they actually become a hindrance.
Here are 5 Ways to Keep Your Gadgets Productive:
Limit Your Gadgets – This is easier said than done. Most tech enthusiasts are always trying out the latest gadgets. However, it is important to avoid tech creep, that leads to too many tools. (Remember the "Power of 1.") Do you really need a smartphone, tablet, camera, Kindle, laptop, and MP3 player in your bag? Stick to as few devices as possible.
Choose Tools You'll Use – Always choose tools that are suited to you. Don't get the newest, shiniest gadget just because everyone else has it. Select technology that you are good with and will use. Otherwise, your gadgets will be a permanent tech support issue and you will stop using them.
Remember Who Is In Charge – Do you rule your tech? Or does it rule you? Break that tech leash. Remember that your tech is there for you, not the other way around. You don't have to jump everytime your device buzzes or vibrates.
Replace Tech That Doesn't Work – The other day I tweeted, "Printer, you have failed me for the last time…"  Why do we put up with this stuff? If you have a gadget that is not living up to its potential, then by all means get rid of it. And quick. I put up with a GPS for months that was not doing its job. You wouldn't keep hammering with broken hammer…would you?
Turn Off Unnecessary Interruptions – Again, your gadgets are there for you. Turn off the notifications, bells, pop-ups, etc. Do you really need to know that your sister just updated her Facebook status while you are in the middle of a business meeting?
Timesaver or Timewaster
Technology can be life changing. Look at the advances that have happened in just the past few years.
However, it can also cause problems and take up your time.
Take a hard look at the gadgets you are carrying. Maybe you need to shed or replace some of those timewasters.
Are they making your more productive? Or do they take up more time than they are worth?
Make sure your tech is saving time, rather than wasting it.
Do your gadgets save you time? What tech is wasting your time?