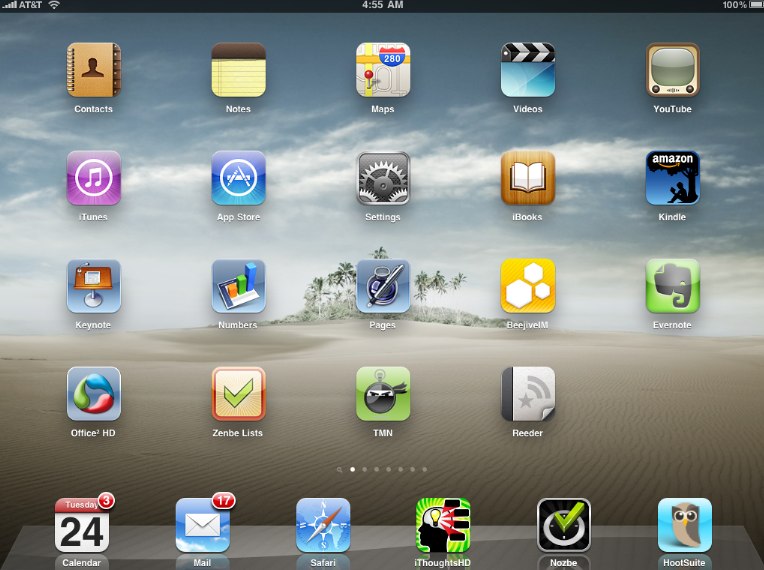 Do you have have an iPad?
Do you use it for work?  Do you use it for fun?  Or both?
There has been interesting debate lately as to whether the iPad is more for consumption or for creation.  In other words, is it more for accessing media? (Surfing the web, watching movies, reading books)  Or can it truly be used to create content? (Do work, create documents, etc.)
I do believe that at the current time, it is better at consumption.  Much of this is by design and also due to a lack of productivity apps. However, the apps are catching up rapidly.  And it seems almost daily there is a new use for the iPad.
Today, I thought I would share some of the apps that I use to "get work done" on my iPad.
How I Use the iPad as My Laptop
Perhaps, the biggest computing shift for me is carrying the iPad.  At work, I used to lug my laptop around the building to meetings and more.  Now, I find that my laptop lives on my desk.  I bring the iPad instead and most of the time forget that I am carrying it.  In meetings, it is very unobtrusive.  In its black case, most people do not even recognize it sitting on a meeting table.
Here are just a few of the apps and uses I have for my iPad at the current time:
Calendar/Email
Of the built-in apps, I think that the calendar and email clients are wonderful.  They are truly a step above what is available on most mobile devices.  The iPad's increased screen size makes it possible to see views that are more usable that those on any smartphone.
I love the calendar app.  It is great being able to see a full screen weekly or monthly view.  (See pic above).  I often find myself showing the calendar to co-workers via the iPad screen when planning an appointment.
Mindmapping: iThoughts HD
My friends and colleagues know that I love to use mindmapping techniques to brainstorm new ideas and projects.
There are several mindmapping apps for the iPad.  Again, with the increased real estate of the iPad screen, these apps are truly functional.  I was not a fan of the iPhone versions because the screen size limited your ability to see the big picture, which is what mindmapping is all about.
Currently, I am using iThoughts HD.  It has the simplest and most intuitive interface I have found on the iPad.
Some of the things I like:
Auto Topic Organization – I like my mindmap to auto layout the topics in an orderly fashion.  You can turn this on for each map in the settings menu.
Right Map Layout – This is a personal preference, but I prefer maps to be "Right Maps" meaning all the topics branch off the right side.  For me, this makes them more readable.  Sometimes on a large project I will go with a multi-sided map.
Export/Save options – iThoughts HD has many save and export options.  It supports multiple file formats and can send maps via email, Dropbox and more.
iThoughts HD ($7.99) in the app store.
Document Creation/Editing: Office2 HD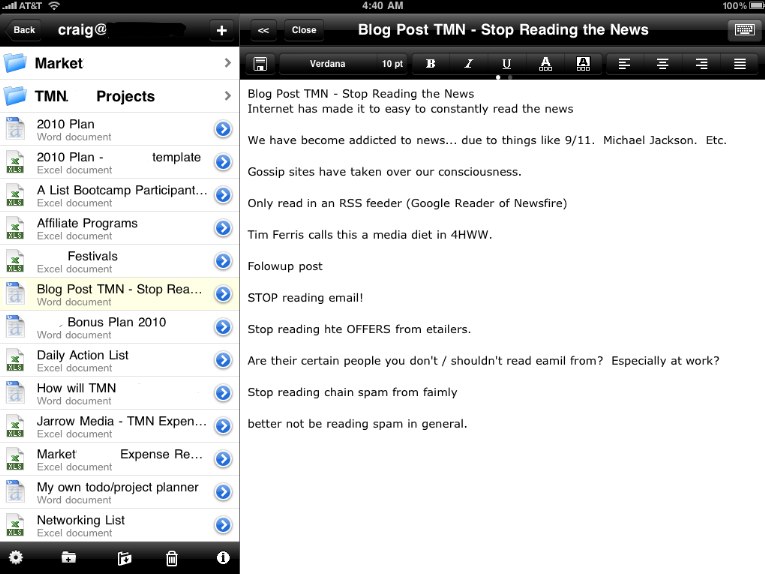 I use both Keynote and Pages on the iPad.  And currently, there are no apps that are as polished as Apple's own document tools.  However, where Apple's apps fall short is in the document management and sharing areas.  It is not convenient to get documents off the iPad from Pages, Keynote, or Numbers.  Sure, you can email them, but with the exception of Pages, you are limited to the Apple doc formats.  (Pages will export Word format).  Until Apple updates their apps for better document sharing and formats, there are several great apps out there.
I am currently using Office2 HD.  It has basic editors for documents and spreadsheets.  However, where it shines is in document management and sharing.
Office2 HD works with your Google Docs, MobileMe, and Dropbox accounts.  It is very powerful.  As far as I know, it is still the only app that can access Google Docs…edit them…and re-save them to the cloud.  Very impressive.
Office2 HD ($7.99) in the app store.
Notes/Document Filing: Evernote
If you are not using Evernote to manage your digital note storage, then you need to try it.  As I wrote yesterday, I still use a Moleskine notebook for my handwritten notes.  But, for everything else, there is Evernote.
It is an amazing system for collecting digital notes, references, whatever.
And the iPad app really shines.  You can get to your notes from anywhere.   The interface lets you search for individual notes, or as in the picture above, browse your Evernote notebooks.
The best part?  The basic Evernote account and even the app are free.
Evernote (Free) in the app store.
How Do You Use Your iPad?
The use of the iPad is still evolving.  It still has a way to go in the area of document management and cloud access.  But, this is changing quickly as app development catches up with the device.
I predict that the iPad will be used more and more in the workplace in near future.
How do you use the iPad for work?  What are your best uses and apps? Share below.
Related Posts:
How the iPad Replaced My Laptop in 30 Days
How the iPad Replaced My Laptop – Part II