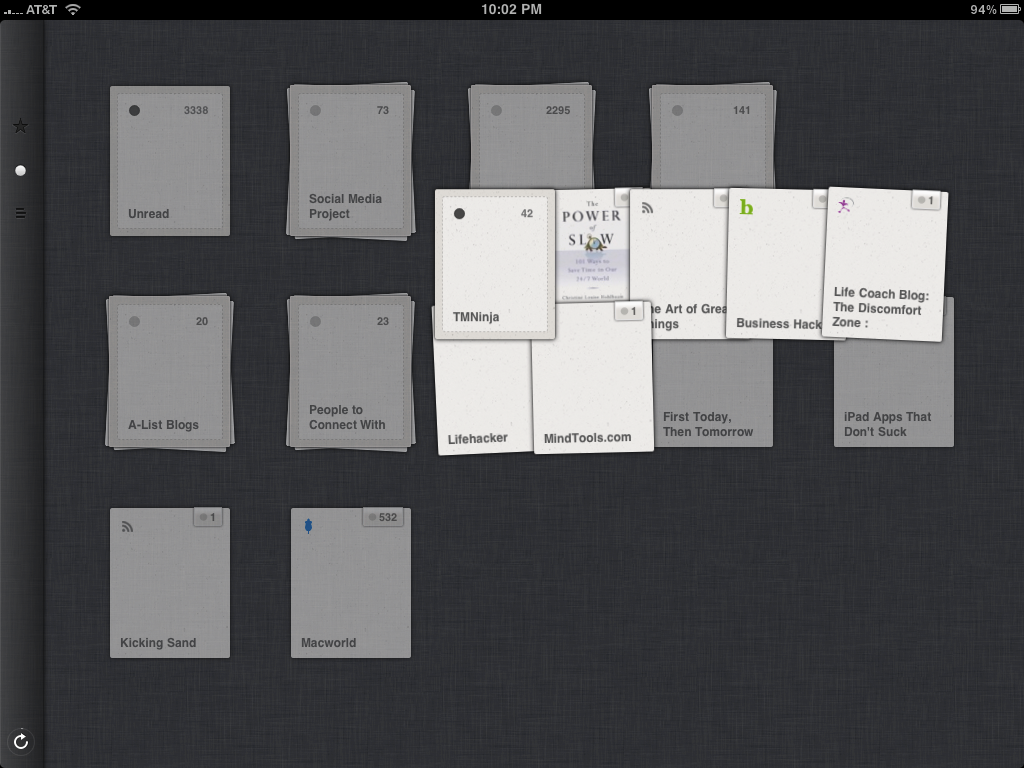 I have not reviewed specific iPad productivity apps yet, but after installing Reeder for iPad (iTunes link) this weekend, I just had to share.
My reaction was WOW. Reeder is a shining star in design for the iPad. It has gotten right what so many developers have not yet figured out, which is the the interface power of the iPad. Simple, yet elegant, Reeder is a pleasure to use.
What is Reeder?
Reeder is an RSS reader. If you are not familiar with RSS readers, think of them as news collectors. They go out to your favorite websites and collect all the new articles for you to read in one place.
Reeder syncs with a Google Reader account. If you are not familiar with Google Reader, it is a web-based RSS reader that is folded into the Google suite of tools. Definitely recommended to keep all your news feeds in one place.
Reeder gives me one app to keep up with all the news I want and the blogs that I follow. It saves me time by preventing me from endlessly surfing the Net for the information that is of interest to me.
It's the User Interface
When you use Reeder for the first time, you may be underwhelmed. It is not flashy. It is not full of buttons and options.

In fact, it is so minimalist, that new users may have a confusing first time figuring out the controls. I did not see any in app instructions or help. As I had not used the previous Reeder for iPhone, it took me a few minutes to figure out the lay of the land.
Keeping things clean and out of the way, even the application options are not in the app, but tucked away on the iPad's main Settings menu.
Read How You Want
Reeder is so enjoyable because you can read your news the way that you want.
Much like the iPad photos app, you can simply touch your articles. You can grab a stack of articles and pinch them out into different website piles. Very intuitive to be able to see the sources you are working with. For example, I have group of time management blogs that I follow. I can stretch them out to see the individual sites, or pinch them back together to see them all together. (See first pic above).
When reading articles, you have a left hand column of post names and summaries. On the right hand side is the reading pane. There are some simple gestures, that once learned, become very intuitive. You can flip post titles (in the summary column), to the left or right to mark them unread or starred respectively. When you reach the bottom of an article in the reading pane, you can simple drag through the bottom of the page to start the next article. Nice touches.
I could go on about Reeder's integration with Twitter, ReadItLater, Instapaper, etc. But, I will won't to keep this review simple. The nice thing about Reeder is that it keeps those options out of the way until you need them, retaining its simple interface.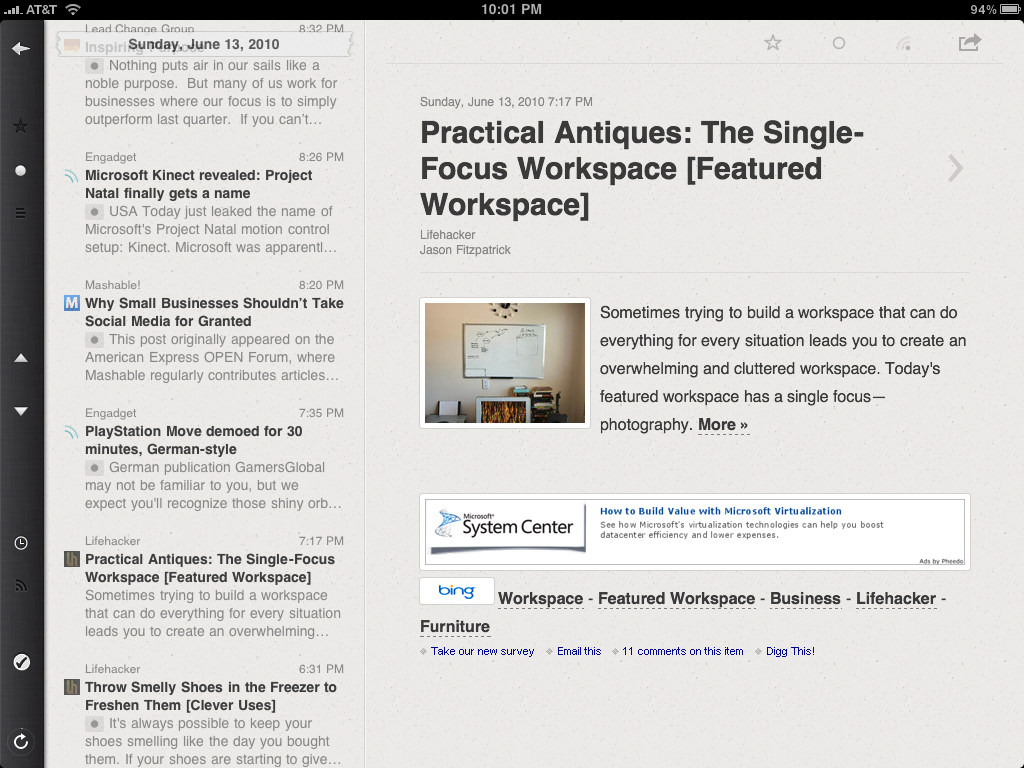 Give Reeder a Try
Reeder is one of the few iPad apps that has really captured the essence of the iPad form factor. Too many apps, so far, are merely ports of their iPhone cousins.
If you have an iPad I recommend you go get Reeder, now. ($4.99 in the App Store). It is a great app and just might keep you from wasting time on that extended web-surfing session!