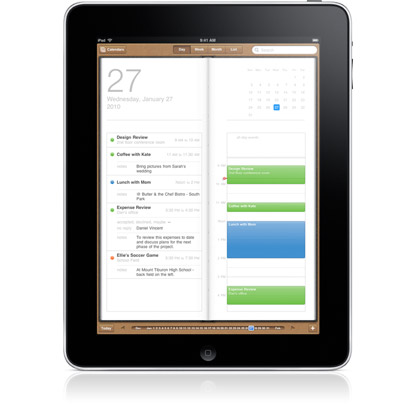 Wow.  The iPad is almost here.  Some of us are very excited.  Is this the tablet computer that we have been awaiting for years?
There are mixed opinions on the iPad right now.  As whenever Apple releases a new product, there is the usual critics vs. fans hoopla.  Personally, I think Apple has again hit the sweet spot between features and functionality.  I also believe that the critics continue to underestimate the base provided by iTunes, the iPhone, and the App Store.
But, today I want to look at the iPad from one angle:  Time Management.
Trying to find the perfect electronic dayplanner
Time management gurus have tried for decades to perfect the electronic planner.  I remember PIM software back in the day.  (It was rough…)  That gave way to PDAs.  And eventually to smartphones.  Along the way some, some have religiously stayed with the pen and paper route.  Some, fed up with lackluster tech productivity, even reinvented it with time systems based on 3×5 cards.  (Hipster PDA, anyone?)
There are reasons that paper based planning tools continue to thrive. For an electronic time management tool to be useful it has to be as good as paper based tools in most areas and provide functionality above and beyond in others.
9 ways the iPad will change time management
Time management systems have always suffered from form factor.  Whether a PDA or smartphone, most of today's electronic options sport small screens that make it hard to be productive.  With its form factor, connectivity, and software base, the iPad stands to be a premier time management device.
Let's look at the ways that the iPad will change the field of electronic productivity tools:
Screen Size – OK.  This one is obvious, but not to be underestimated.  Those who are flippantly saying, "It's just a big iPod Touch" are missing the point.  To paraphrase Apple VP Scott Forstall, "With a screen this big, you don't get apps that are a little bit better, but apps that are an order of magnitude more powerful."  The apps for this device will be a large part of what defines it.
Multitouch to the next level – Multitouch on the iPhone forever changed user interfaces.  This coupled with the larger screen are going to bring about even more powerful interfaces for productivity.  We will be able to interact with our information in ways not possible today.  (If you doubt this, go watch the Apple demo of their new iWork software on the iPad.)
Connectivity – Smartphones have pushed the envelope of Internet connectivity, but most consumers still do not have a portable computing device that can access the Internet from anywhere.  I think it is going to impact workplaces in ways never imagined.

The Visible Todo list

– Todo lists on today's smartphones are limited by the small screen.  If you have more that handful of tasks, you have to resort to scrolling or multiple screens.  

Visibility of your todo list

leads to action and increased productivity.

A Workable Calendar

– If you use your calendar on a smartphone, you know it is hard to get a good overview when you are looking at a calendar only a few inches big.  The iPad will present a full view of your calendar.  Being able to view a large week or month view will dramatically improve our ability to plan.

Carry Your Document Library

– For the first time, you will be able to carrying all your documents with you in a device that fits in your bag.  

Evernote

for mobile devices was a amazing step in this direction, but viewability has always been a limitation.  (Evernote is supporting iPad!)

Notetaking

– Many will dismiss the iPad due to the lack of a physical keyboard.  But then again, the same thing was said about the iPhone and I watch people tap out text messages on their touchscreens at twice the speed of plastic keyboards.  It will be interesting to see how iPad impacts notetaking.

The Internet in your hand

– Just as the iPhone forever changed Internet access, iPad will take it to a whole new level.  There is only so much you can do on a phone screen.  This will set a new standard for internet access.  Connectivity is one thing, but the capability to truly utilize web applications is another.

Portability

– The iPad is going to make netbooks look clunky.  The ability to carry this much computing productivity in such a portable device is going to forever change the market.  Some are skeptical of the functionality.  On the other hand, I know entrepreneurs who will be able to run their entire web-based business off of an iPad!
We will have to wait and see…
I am excited by the potential productivity uses of the iPad.  We will have to see what happens when it arrives.
When I was discussing this topic with a friend he made the snide commented, "Isn't the iPad going to be a be huge time waster?"  Perhaps.  But, like any powerful technology it has potential for great productivity and great waste of time.  Look at the Internet.  It is both the most powerful business tool in the world, yet also the biggest time waster in many companies.
What are your thoughts on the iPad?  Please comment below.