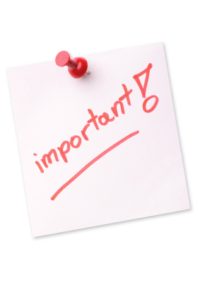 The other day, a co-worker got on a rant about how, "He didn't have time to do a lot of things…"
I considered flippantly responding, "You have the same amount of time in the day as everyone else…"
But, I resisted.  As he went down the laundry list of things he "didn't have time to do," it hit me that many of these "things" were extremely important.
In fact, he really needed to be doing these things.  Yet, he was not prioritizing his obligations to get to them.
Things you don't have time not to do…!
When people get caught up the daily grind, they tend to not get to the important stuff.
However, when you don't do the things that are important…it will cost you later.
These costs can be:
Time – It will take you more time to do the task later.
Money – Ever paid a late fee?
Stress – See creating more Life Friction.
All of the above
Here are a few of the most common "Things you don't have time not to do…"
Exercise – One of my personal pet peeves is when people say, "I don't have time to go to the gym and workout."  The bottom line is… "you don't have time not to work out."  Exercise is one of those magical activities that actual creates productivity.  It gives you energy and it keeps you in shape.  Both of these lead to increased productivity.
Planning & Preparation – It amazes me how many people charge into their day without a thought about what they are going to accomplish.  People say, "I don't have time to plan."  Yet, planning gives you more time in your day.  It makes sure you get your priorities done first.  And it ensures you don't create more life friction by overlooking tasks and obligations.
Tasks with Deadlines – People often don't do things even when there is a deadline.  Paying bills, finishing projects, registering for events, are all things that don't get done on time.  This leads to more work and more time and money invested.  Have you ever paid a late fee?  Or had to do more work because you did not do something on time?  There are entire companies based around the fact that people do not make deadlines.  (FedEx, perhaps!)
Preventative Maintenance – It puzzles me when people do not take preventative measures for issues that they know will cause them more problems in the future.  "I don't have time" to get my car to the shop.  Will, you have time, and $, when it breaks down?  "I don't have time" to go to the doctor.  Will you have time when your condition gets worse?
Let's make sure we "have time" to do the things that are important.
What are the things you "don't have time not to do…?"