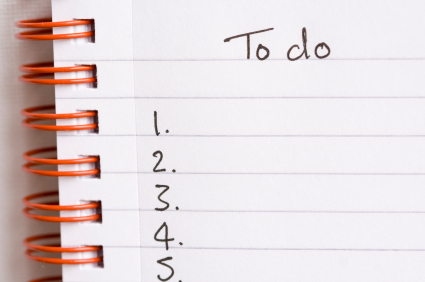 Where is your Todo List?
And more importantly, when was the last time you looked at it?
The idea of a todo list is to capture the things you need to do, so that you can get them off your mind, and you can continue the business at hand. However, all that is worthless if you never look at the list again.
Are you one of those people who finds lists that you made days or weeks later?
One list and one list only, please.
Lets start with the basics.  You should have one list.
People fall into the trap of capturing their todos in too many places.  An inbox, their email, their phone, an online web app. The problem here is too many places to look in order to know what you should be doing.
Todos belong in one place and one place only… on your one todo list.
Again, the medium is not important. I don't care if you use pad of paper, a sticky note, a web application, an iPhone… whatever… but pick one. It is about putting all your todos in one place.
Now that we have one list, it is time to act on it.
You have to keep your todo list visible.
Your todo list should be with you and visible at all times.
The issue with Dayplanner and technology based todos lists is that they are very easy to be out of sight, and out of mind.  If your todos are on a website, how often are you able to look at them?  If your dayplanner is closed or not with you, how can you review your tasks?  When I used a dayplanner, I would stick my todo list on the front cover of the binder.  That way it was visible even when the dayplanner was shut.
Visibility leads to action.
When your todo list is readily reviewed, it leads to increased prodcutivity and getting your priorities done.
Try keeping your one todo list visible at all times.
What other tips do you have for keeping your todo list visible?