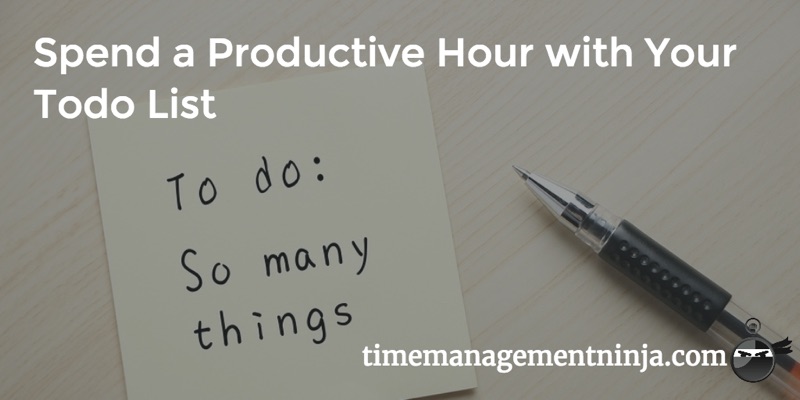 Do you neglect your todo list?
When was the last time you spent some time with it?
(Heck, do you even use a todo list?)
Spend an hour with your todo list today, and be more effective in your day.
An Hour of Productivity
I can already hear you saying, I don't have an hour to spend with my todo list today.
Yet, if you did spend that hour… you would be more organized, less stressed, and get more done.
"Spending one hour with your todo list could be the most productive activity you do all day."
Studies show that the average person at work is only productive for less than 3 hours per day.
Still think you don't have enough time to spend with your todo list?
And imagine how much you could really get done, if you spent a concentrated hour with your list.
Here are 5 Things You Should Do during Your Todo List Power Hour:
Review – Knowing what's on your list is the most important activity. Your list is worthless unless you review it regularly. Always review your list first, so that you are reminded of what you need to be doing.
Add/Delete – Get tasks off of your mind and on to your list. This will allow you to use your brainpower on the task at hand, rather than the one you need to do later. As well, don't be hesitant to remove or delete tasks from your list. Just because you added it at some point, doesn't mean you have to actually do it. It may be a minor task, or has already been superseded. Delete it and let it go.
Prioritize – One of the most important activities you can do with your list is prioritizing the tasks on it. Having a list is good, but having one in order of priority is much better. Make sure your list is ordered from most important to least important task. And then make sure you complete them by prioritization.
Do –  One of the best times to "knock out" smaller tasks is while you are working with your list. Quickly complete smaller tasks (that are important), but may be slipping through the cracks. Batch phones calls, return emails, and other things on your list that you can complete just as quickly as you review your list.
Schedule Important Tasks – Bigger tasks will require time to complete them. Block time on your calendar and make appointments with your most important work.
Spend Time with Your Todo List
Invest the time with your todo list today.
It is a tool to drive your productivity. Let it make you more efficient and effective in your efforts.
Soon, you'll be asking why you didn't previously spend more time with your todo list.
Question: What could you accomplish in an hour with your todo list today? You can leave a comment by clicking here.