31 Days to Change Your Life,
31 Ways to Take Action Today!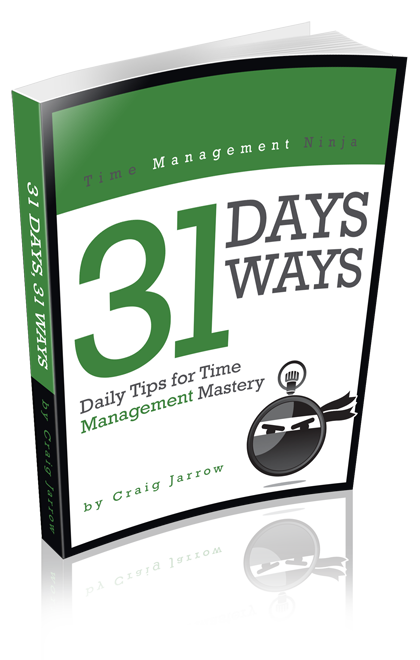 Are you overwhelmed by the time management tools available to you? Do you need more effective, easier-to-implement strategies to improve your workflow?
31 Days, 31 Ways: Daily Tips for Time Management Mastery is a downloadable e-workbook designed to help you take action, reduce stress and reclaim your time for the things that are important to YOU.
This 145-page e-workbook contains 31 powerful daily lessons and 31 actionable exercises to turn you into a time management ninja!
No esoteric philosophies. No zen or water stories. No flowcharts.
Get 31 ninja-guided lessons with specific actions you can practice daily!
Each strategy-packed chapter provides you with:
A Comprehensive Lesson — Each of the 31 days presents a valuable, easy-to-understand time management approach.
An Action Exercise — A simple workable activity for you to do that very day.
A Ninja Tip — At the end of each day, you'll get a clear-thinking takeaway from the ninja book of secrets to take what you've just learned one step further!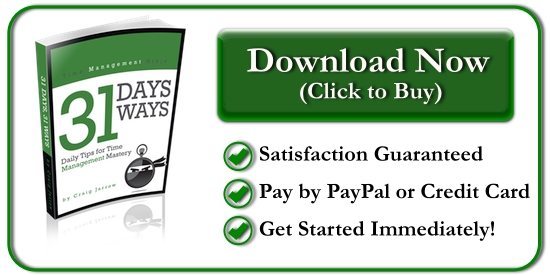 "I have seen many types of information products, e-books and courses covering this topic, but nothing matches what Craig has done with this. Being someone who gets sidetracked continually and has trouble staying focused, I was able to immediately relate to the topics and use them — especially the ninja tips. They say it only takes 29 days to create a new habit, so anyone who wants to radically improve their lives can start right here and do it in a way that makes total sense — daily tasks, tips and accountability."
—Shane Ketterman, Rewire Business
How to Use this PDF e-Workbook
This e-workbook is intended to be done in bite-sized pieces, a day at a time. We'll begin each day with a lesson, followed by an actionable to-do. You can start with any day, choosing to tackle those lessons that resonate most with your time management needs, or work chronologically. It's up to you.
Many people might attempt to read this book in one sitting. I recommend the opposite: Take it one day at a time for 31 days. You'll see that just 31 days after you begin, you'll have added to your arsenal of productivity-boosting tools to get you back on track!
Who Can Benefit from This Time-Saving e-Workbook? 
People who …
Need the Right Tools to Boost Their Productivity Levels
Want to Develop Effortless Time Management Habits 
Wish to Gain Focus Instead of Fumbling Through Endless Multitasking 
Are Looking to Get a Handle on Big Projects
Could Use an Extra 14 Hours of Free Time a Month!
31 Days of Action
This is an e-workbook. A mini-course in time management, where you'll find 31 days full of topics and exercises for you to put into play TODAY. 
It's not about time. It's about TODAY.
After 31 days,  you'll have completed 31 action items — And action leads to progress. By starting TODAY, you'll have taken the first of 31 steps forward in your path to time management mastery and added to your arsenal of productivity-boosting tools to get you back on track!
In just 31 days, you'll have learned:
How to Protect Your Valuable Time
The Difference Between Planning & Preparing
The Power of Time Shifting
How to Curb the Constant Urge to Check Email
How to Break Free from Personal Anchors That Limit Your Potential
"31 Days, 31 Ways is a time management system that doesn't waste your time. Each day I read a page, and more importantly, I take action on what I read."
—Nate Smith, bestnatesmithever.com
Money-Back Guarantee
I want you to be satisfied with the 31 Days, 31 Ways PDF e-workbook. So download it and try it for 31 days.
If you're not satisfied for any reason, and if your productivity levels haven't improved, let me know at the end of 31 days and I'll refund your money.
I'm confident that the lessons in this e-workbook will enable you to reclaim your time and take control of your life.
Get the TMN 31 Days, 31 Ways workbook now, by clicking the button below: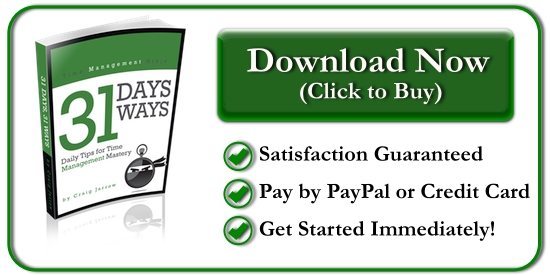 Free Bonus Webinar
As a bonus for purchasing the workbook, you'll get access to my upcoming 1-hour webinar:
"Top 10 Time Management Technologies You Aren't Using"
This online event will be by invitation only and broadcast LIVE in the near future. If you're unable to attend the LIVE broadcast, you'll receive an access link to the recording to listen to and replay anytime you want!
About the Author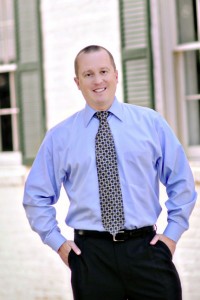 Craig Jarrow has written more than 300 articles on time management, goal setting and organization. 
He is the author of the popular blog Time Management Ninja, which he launched in 2009.
Throughout his career, he has taught time management at companies ranging from The Home Depot to the U.S. Navy.
He has been featured on several websites, including American Express OPEN Forum, Law.com, Spinsucks.com, Accomplish Radio and the International Business Times.
Join the over 22,000 fans of TMN and take control of your time TODAY!
Download Your Copy of 31 Days, 31 Ways for Only $1 a Lesson
Many time management courses cost hundreds (even thousands) of dollars! Buy now and get this 31-day e-workbook — that's 145 pages — right now for only $31. Get your strategy-packed PDF e-workbook here.
At only $1 per daily lesson, this e-workbook is designed to help you get started immediately in reclaiming your time and boosting your productivity!