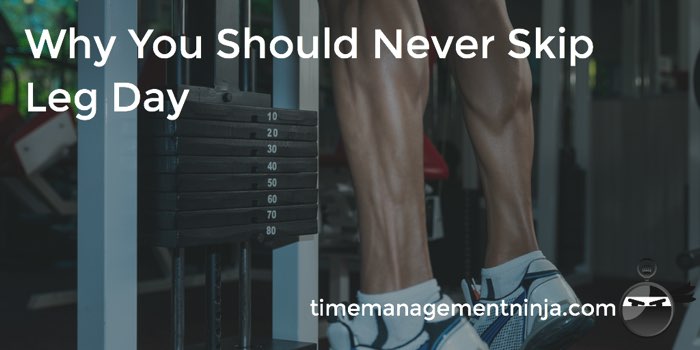 Leg Day.
If you lift weights, or workout at a gym, you probably dread those words.
No one likes "Leg Day."
It is one of the toughest workouts in the fitness world. However, skipping Leg Day leaves you unbalanced and stunts your progress. Leg Day is a great metaphor for avoiding tasks that you don't want to do.
Are you skipping "Leg Day" in your day-to-day activities?
Everyone Dislikes Leg Day
There is a saying in the gym world, "Never skip Leg Day."
In fact, it has actually become a meme in recent years.
This saying comes from the fact that most people who workout, don't like Leg Day.
Leg Day is tough. It is grueling. And for many, it is the toughest workout that they have to do.
Leg day isn't sexy. And for many, it doesn't represent the parts of the body they are trying to "build up." (Especially for men.) Leg Day doesn't have the immediate and often visible impact that upper body workouts do. For many, working out arms, shoulders, and chest appear to produce more tangible results.
So, it only makes sense to skip the "tough workouts" that don't produce tangible results, right?
Not so fast. If you skip leg day you are missing out on two major benefits:
Balance – If you only work out the upper half of your body, you will end up with an unbalanced physique. All muscle up top, and none in your legs. (Hence, where the meme comes from.)
Core Progress – The legs are actually some of the largest muscles in the body and working them out can have a tremendous impact on your overall fitness progress.
Maybe it doesn't make sense to skip Leg Day, after all.
Don't Skip Leg Day
This post appears to have been about working out.
However, Leg Day applies to almost all areas of life from work, to home, to relationships.
What is your Leg Day in your day-to-day activities?
If you are guilty of skipping your "personal" Leg Day, you are probably limiting your progress and productivity.
Whatever your Leg Day is… make sure that you do it as diligently as every other activity in your life.
Your "legs" will pay you back later. Guaranteed.
Question: What is your "leg day" activity and why do you skip it? You can leave a comment by clicking here.