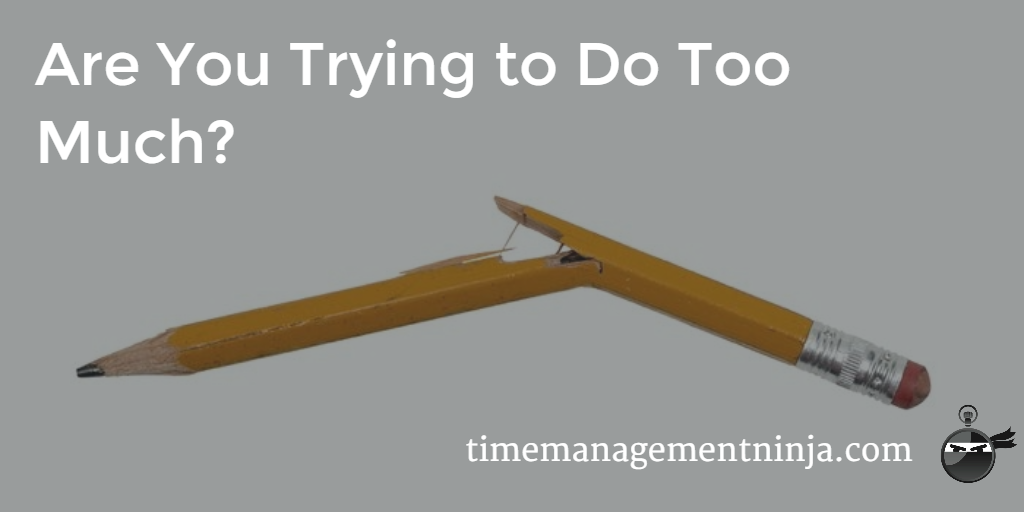 This is a post that previously appeared in the TMN newsletter. If you don't already receive the newsletter,
click here to sign up
.
I was recently talking with a friend who was drowning in their work.
Too many tasks on their list.
Too many meetings on their calendar.
Too many obligations in their life.
I had to ask, "When is too much… just too much?"
Always Doing More
Some people feel that they must always be doing more.
Maybe they are perfectionists. Type-A personalities. Or just always striving for more.
Whatever the reason, their productivity follows a predictable pattern.
They keep adding to their plate until they start to drop tasks. They begin to be late and miss appointments. They forget and miss deadlines.
Inevitably, the whole charade comes crashing down, as they simply cannot keep up with all the obligations they have put on themselves.
Something eventually has to give, whether is it is their job, family, or personal happiness.
All because they took on too much, by their own hand.
Ironically, our society still tends to favor those who do too much. Companies often reward busyness instead of results. They recognize so-called over-achievers, even when they are failing.
(True story… I once saw a company give an award to employee "because they were so busy and sent so many emails!")
Doing Less Isn't Lesser
Keeping your life simple and in control shouldn't be a negative. Rather, it should be a guardrail for your happiness and personal success.
Today, I challenge you to look at what's on your list and on your calendar.
Ask yourself, "I am trying to do too much?"
Remember, "Life isn't about doing the most things, it is about getting the most important ones done."
Question: In what areas of your life should you do less? You can leave a comment by clicking here.