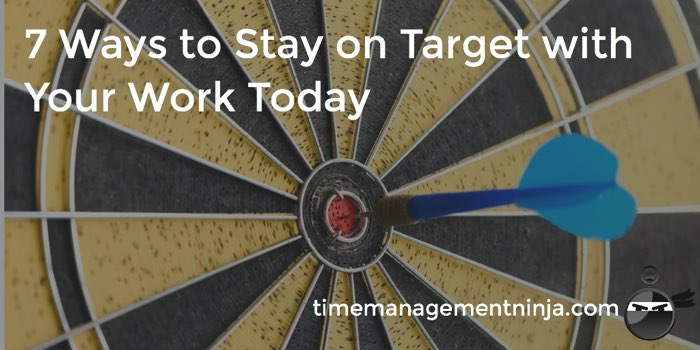 Ever have one project that you needed to get done?
Yet, when you finally reach the end of your day, you discover that you worked on everything but that important project.
Countless interruptions and other distractions have kept you from focusing on your most important work.
Today, I have 7 tips to help you stay on target and ensure you get your most important tasks done.
Staying on Task Amid Workplace Interruptions
It can be frustrating when you have priorities to get done, but you get dragged away to lesser tasks.
If you work in an office environment you are familiar with the hustle and bustle that can keep you from getting anything done in the day.
Or at least it feels that way.
Calls. Emails. People stopping by. Last minute urgencies. Endless follow-ups.
No wonder that you never get to your main priorities. It seems that everything in your day is preventing you from getting your work done.
"Some days it seems that everyone and everything is trying to keep you from getting your work done."
When everything else is taking you "off task," you need to re-focus and concentrate on your work.
Here are 7 Tips to Help You Stay on Target with Your Work Today:
Start on Target – One of the best ways to stay on target with your work, is to start on target. Make sure you start your day with your most important work. This will allow you to get a head start before the chaos of the workday sets in.
Block Time – What's on your calendar? If it is nothing but other people's meeting, you shouldn't be surprised as to why you aren't getting to your work. You need to set aside time for your important tasks. Block time on your calendar and make appointments with your projects.
Don't Let Others Take Your Time – If you let other people take your time, soon you won't have any left for yourself. Avoid the gossip sessions. Say no when appropriate to "favors." Let others know you are busy and will get back to them when you are finished.
Remove Lesser Tasks – When you have an important project to get done, you need to clear the decks of all lesser work. Get rid of the small things. Disregard the lower priority todos and focus solely on your top tasks.
Prevent Interruptions – Some work environments are just not conducive to concentrated work. You may need to isolate yourself to get important work done. Prevent interruptions by setting expectations with others that you are busy. Shut your door, or put your headphones on. If you must, get away to an isolated spot to get your work done.
Turn off Notifications – Many of our interruptions are from our technology. What is supposed to be a productivity enhancer has become an endless source of interruptions and noise. Turn off the notifications when you need to work. Silence the dings and chimes. And yes, you can even turn off your phone if you must. (They do have an off button.)
Front and Center – One of the most powerful tactics to stay on target with your work is to keep it visible. Keep your work front-and-center so that it cannot be physically displaced until it is done. If you are working on multiple priorities, make sure you check your todo list regularly to keep you on the right tasks.
Target Your Most Important Work
Don't get to the end of your day and find yourself without any of your important work done.
Stay focused on your tasks and avoid the interruptions.
Stay on target with your most important work today.
Question: How do you stay on target with your most important tasks? You can leave a comment by clicking here.