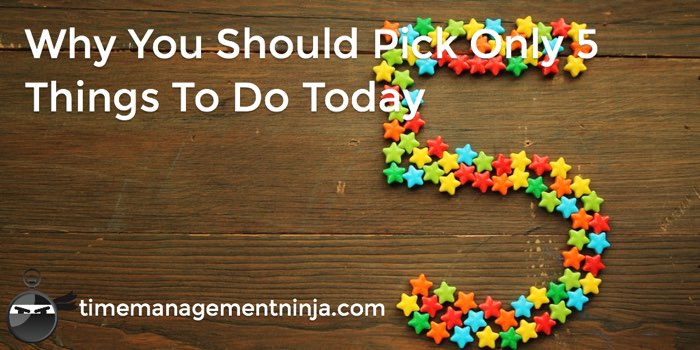 How many tasks are on your todo list?
If you are capturing all the things you need to do, then it is probably a pretty long list.
It is more than you can hope to do on any one given day.
Rather than frantically trying to do your entire list, pick the top 5 todos and dedicate yourself to those few tasks.
Todo List vs. Today List
A common time management mistake people make is trying to do their entire todo list every day.
You simply can't do it all. (No one can.)
Instead, ask yourself, "What are the top todos I should do today?"
Mark the top 5 tasks as your "Today List." These are the 5 tasks that you will get done today… no matter what.
"Your 'Today List' should contain the top 5 tasks that you will absolutely positively get done today."
Your todo list may be a mile long, but your Today List is your 5 most important tasks. It should always be a subset of your todo list.
These are the todos that will make the biggest difference, and have the biggest impact on your day.
If nothing else gets done, dedicate yourself to these 5 tasks.
Five Tasks Only Please
You may be tempted to put more than 5 tasks on your Today List.
However, five tasks is the most you can keep front-and-center at any one time.
So, pick five tasks and five tasks only. Then complete them.
At the end of your day you can relish in the fact that, no matter what else happened, you got your 5 most important tasks done.
Question: What 5 tasks will you get done today? You can leave a comment by clicking here.