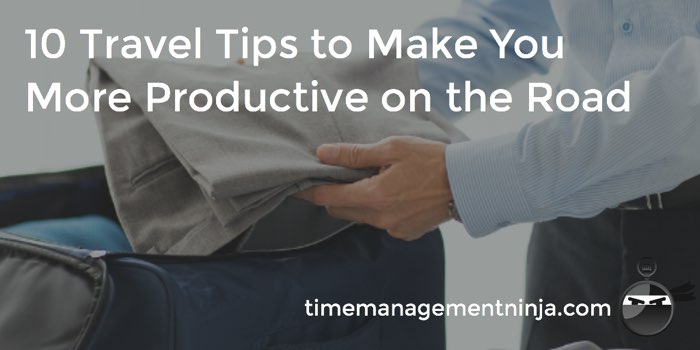 Whether traveling for business or pleasure, being on the road can take a lot out of you.
Everyone wants a productive and frictionless trip, but that doesn't happen too often.
Today, I share some of my top travel tips to keep you efficient on the road.
Saving Time and Effort on the Road
Traveling can be a trying experience even for the most experienced road warriors.
Long waits. Lines. Time zone changes. Delays.
And there are always many details to track.
Flight numbers. Receipts. Addresses. Itineraries.
No wonder many people dread going on the road and spending long days at the airport. (My last travel day was over 9 hours, and that was just from East to West coast.)
However, with a little pre-planning and positive travel habits, you can reduce your travel stress and improve your productivity on the road.
Here are 10 Top Travel Tips to Keep You Productive on the Road:
Use a Travel App – Track your trip details with a travel app. You don't want to be scrambling to search your email for confirmation numbers, hotel addresses, etc. I use TripIt. It automatically collects most of my itineraries and I can simply forward email confirmations to TripIt for any additional ones.
Use a Packlist – It doesn't matter if you travel weekly or once a year, you should use a packlist. Packing with a checklist is easier, quicker, and you won't forget something that you need on the road.
Pack the Night Before – This rule applies to both ways on your trip. Pack for the road the night before you leave. You don't need to rush the morning of departure. As well, for the reverse trip, pack the night before in the hotel. You don't need to be stuffing your suitcase at 6AM the morning of your trip home.
Keep a Separate Toiletries Kit – This is a pro tip that not too many people do. Keep a second set of toiletries specifically for travel. The small cost in doing so more that outweighs the effort of trying to transfer your bathroom toiletries from your bathroom to your suitcase each time. And you won't forget that one item that you then need to buy at the hotel or airport gift shop.
Avoid the Airport Shuttle – This tip falls in the category of "You get what you pay for." The "free" hotel shuttle from/to the airport may appear to be a savings. Yet, more often than not, you will end up waiting more time than the money you saved. As well, many of these shuttles stop at multiple hotels along the way. (You don't need to make 9 stops along the way when you are in a hurry.) Use Uber or a taxi and travel on your timeline for a small expense.
Always Bring Your Workout Clothes – You say you will work out while traveling. Make sure you are prepared. Always bring your workout clothes even if you think you may not have time to hit the gym.
Skip the Hotel Breakfast & Workout Instead – This is one of my favorite ways to make sure that I do have time to work out on the road. While everyone else is down in the lobby eating a cheap hotel breakfast, hit the exercise room for a quick 30 minute cardio workout. Have a protein bar after your workout and start your day pumped up instead of recovering from a fast food breakfast.
Don't Overdo Food & Drink – When in a new city, it can be tempting to sample all of the local food and drink. However, your body is already outside it's comfort zone. Eat and drink in moderation while traveling, your body will thank you.
Get Outdoors – On the majority of business trips you will find yourself locked up in a client's office or a hotel conference center. These near-prison stays can zap the energy out of you. Make sure to get outside and get some fresh air. Even a simple walk around the grounds can make a tremendous difference in your productivity levels.
Capture Receipts Immediately – Don't end up with that wad of crushed paper in your purse or wallet at the end of the trip. Instead, capture all receipts as soon as you encounter them. Snap a photo with your smartphone. Use an expense tracking app, or simply capture them to Evernote.
Travel Tips for A More Productive Trip
These are my top productivity travel tips for making travel easier and more productive.
As the saying goes, "Your mileage may vary."
I would love to hear your top travel tips. Please share them in the comments section below.