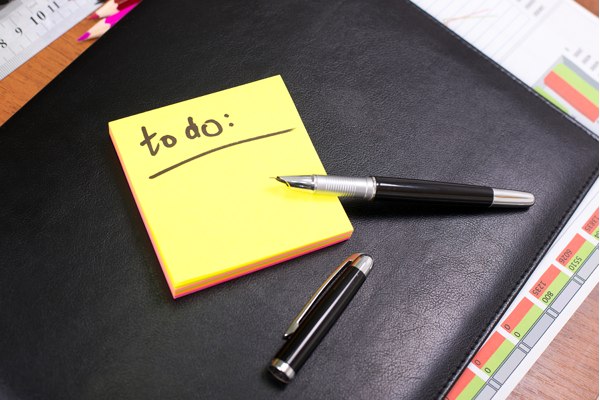 You say you are overloaded.
You say you have too much to do.
Yet, you aren't even keeping a todo list.
So, how do you really know what you need to accomplish?
Show me Your List
Where do you keep your todo list?
It really doesn't matter, as long as you are keeping one.
"If you're not keeping a list, you're not tracking your tasks."
Seems obvious enough.
So, where is your list?
When I work with coaching clients, one of the first things I ask is to see their list.
Could you show me your todo list, right now?
Where is Your Todo List?
People often get hung up on where they should keep their list.
Day-planner. iPhone. Notepad. An app. Or on a 3×5 card …it really doesn't matter.
What matters is that you have a todo list and you use it with discipline.
Here are a few tips to help with your todo list:
Let Your List Remember – Your todo list is there to remember tasks so you don't have to. Get those todos out of your head and onto your list.
Capture All Tasks – Use your list to capture any and all todos. You don't have to do them all. In fact, you can cross the lesser ones off later. But, at least you will have the ability to be selective about the ones you do.
Order Your List – Keeping your list is the first step. To make your list even better, make sure that you prioritize it. Order the tasks on your list so that you know which you should be doing first. This will keep you from putting low priority tasks in front of more important ones.
Carry It With You – You should carry your list with you always. That way it is always ready to capture new tasks, and you can reference it no matter where you are.
Keep It Visible – Visibility to your tasks leads to action. Look at your list regularly. Keep it in a visible place. When it is out-of-sight, your tasks will be out-of-mind.
Keep Your List
As long as you have a list, it doesn't matter where you keep it.
On your phone or on a notepad, whichever works best for you.
Let your list do its job tracking your todos, so that you can concentrate on doing the work.
When you do, you'll have less stress and greater control over your actions.
Question: Do you always keep a todo list? Could you show it, right now? You can leave a comment by clicking here.