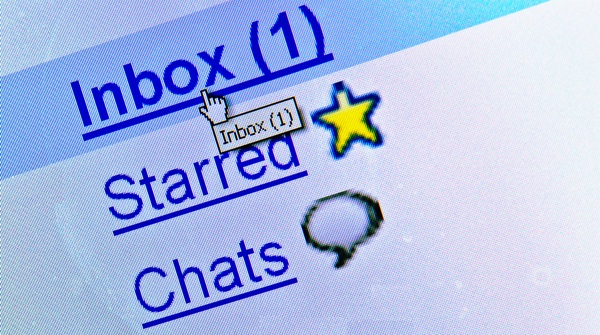 When you open your inbox what do you see?
Probably the same messages that were present the last time you opened your email app. The emails that you glanced at, but then left in your inbox.
If you are going to look at your email, make sure you do something with it.
Why Is Your Email Sitting There?
Email isn't meant to sit in your inbox. The same messages should not be staring back at you every time you peek at your email.
Why are they still in your inbox?
Well, the simply answer is… because you left them there.
To prevent email from sitting in your inbox, only open your email when you are prepared to act upon it.
"You should only see an email message once in your inbox." (Tweet this Quote)
If you look at an email… do something with it.
Act on it. File it. Respond to it. Delete it.
Whichever action is appropriate.
Don't Just Look at Your Email
You don't go to your physical mailbox take out the mail, open a few pieces of it, and then stuff it back in there. (If you do, your postmaster is not going to be too happy.)
The same should apply to your email inbox. Only go there when you are ready to act upon your email. If you open a message, act on it. Resist the urge to simply close it and leave it be.
Here are some tips to ensure your email doesn't sit indefinitely in your inbox:
Don't Peek at Your Email – Only go into your inbox when you have time to process it. Peeking at your email, only to leave it be, is not a productive habit.
Your Inbox is not a Storage Place – Don't leave messages there, it is not a filing box. Get those emails out of your inbox. Archive previous emails so that new ones are easily accessible and not sitting in a pile of thousands of old messages.
Tasks Belong on Your Todo List – Your inbox is not a todo list. Get emails that contain action items out of your inbox. File the email and add the appropriate todo to your list where it belongs.
File Reference Emails – File important emails where you can find them again. If the message contains an important document, I will forward it to Evernote which is my default place for notes.
Don't Be Afraid to Delete – Some email wasn't meant to be kept. If it is a simple email or junk, don't be afraid to hit the "delete" button. If it is something you may need again, then archive it.
Stop Repeat Emails – In the case of junk mail or solicitations, make sure you take the few seconds to prevent the next one from reaching your inbox. For me, this is as easy as dragging the message to a Sanebox folder to make sure it doesn't reach my inbox again.
Don't Look at Your Email Unless You Are Going to Take Action
If your inbox is overflowing with messages that you have already looked at, then it's time to stop reading and start acting on your email.
Don't put already read messages back in your inbox. Don't open your email unless you are prepared to do something right then and there.
Soon, you'll be checking your email less, acting on it more, and your inbox may actually get to empty.
Question: Is your inbox full of already read email messages? You can leave a comment by clicking here.