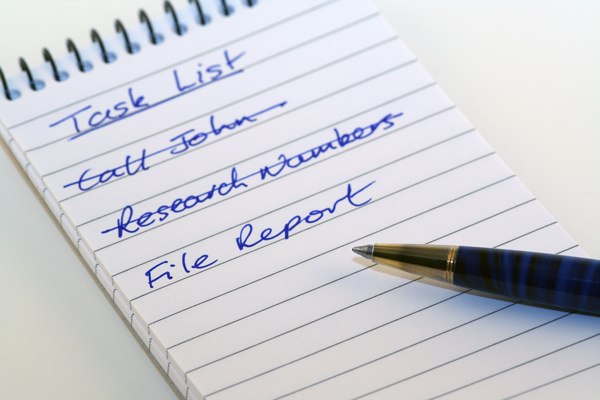 It happens to all of us.
You're hard at work doing an important task. Then, several minutes later you "wake up" to find yourself doing some meaningless item that popped up.
Your important work has been pushed to the side and you're not sure when you will get back to it. In fact, thirteen emails and seventeen web searches later, you have forgotten all about your original task.
What do you do when you find yourself off task?
Stick to Your List
You started with the best intentions of getting your top priority done, when suddenly you realize you are doing some random task.
How did this happen?
You were suppose to be working on that main thing. But, now you find yourself doing everything but what you were planning on doing today. In fact, most of these miscellaneous tasks weren't even on the list that you prepared this morning.
And that is a key thing… they weren't on your list.
If they weren't part of your work plan, why are you letting them derail your productivity?
Always Add Tasks to Your List
When interruptions and urgencies arise, the best way to put them into perspective is to put them on your list.
Adding tasks to your list lets you see all of your work in priority order.
"If it's not on your list… then don't do it." (Tweet this Quote)
Your list helps you answer several key questions:
What task should I be doing right now?
What is my top priority?
What other tasks do I need to do?
What tasks have I forgotten?
Your list ensures that new tasks take their proper place in your priorities, instead of simply taking the top spot by interrupting you.
In other words, should you be doing this new task right now?
Here are some tips and tactics to ensure that you stick to your list:
Always Add It to Your List – If any task is worth doing, it is worth adding to your list. Not only does this let you track it, but also gives you the satisfaction (and momentum) of later crossing it off your list.
Order Your List – The main reason to add tasks to your list is so you can put them in the correct order of priority compared to your existing todos. You can quickly see what tasks should be done ahead of other tasks.
Choose From Your List – Use your todo list as a "menu of productivity." Your list serves as a home base of tasks that you should be doing. As well, if you always go back to your list, you will be assured of not forgetting any tasks.
Stick to Your List – It's when you go off list that you end up doing all of those miscellaneous tasks. Don't let yourself fall into the trap of confusing busy with productive. It is always better to get a few top tasks done than many lesser ones.
Do Your List
When you find yourself straying to minor tasks, use your list to bring you back-to-center.
If you are performing a task without perspective to your other work, you don't know if you should be doing it.
Let your list answer the question, "Should I be doing this right now?"
Question: Does your list help you stay on task? Do you add all of your tasks to your list? You can leave a comment by clicking here.