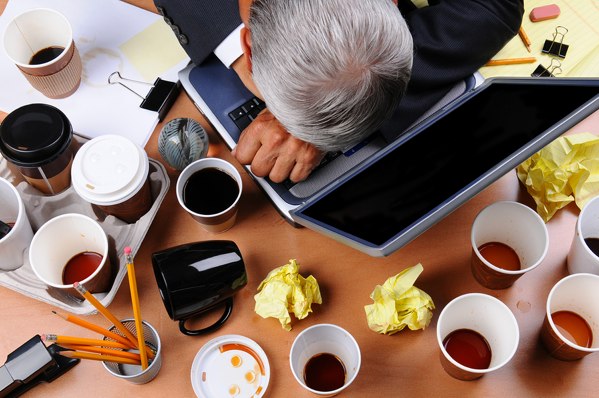 Most people quit their boss, not their job.
A disorganized boss can sink an entire department. (Or company for that matter!)
And a boss's lack of attention to detail can drive their team to delirium.
However, before you pack it in, here are some tips to help you stay above water… even if your boss isn't.
Working With a Disorganized Boss
Recently, I was coaching an individual who was frustrated with their boss's lack of organization.
He related several stories about how their team had been negatively affected due to their boss's disorganization. One involved information not being properly communicated, and the other was about not meeting a deadline even though the team had completed their work on time.
If this sounds familiar, your boss may be responsible for impeding your progress. And it is going to take extra work to succeed under such circumstances.
"If your boss is disorganized, you will have to put in extra effort to stay ahead." (Tweet this quote)
Maybe you have a bad boss. Maybe they are disorganized.
But, you can't let that affect your work. (Otherwise, you won't be very happy at work.)
Even good leaders go through periods of overload.
Here are some tips to Help You Thrive While Working for a Disorganized Boss:
Ask Lots of Questions – If your boss is not forthcoming with information, then go on the offense. Ask lots of questions about updates, statuses, and any information that you need. Be clear that you need timely information in order to do your best work.
Follow-up on Tasks – Don't assume something you passed along to your boss has been addressed. Follow-up to ensure completion of tasks, even ones you pass up the chain.
Over-communicate – If you boss is overwhelmed with information, make sure you clearly and regularly communicate. Schedule regular one-on-one updates. Just as important, deliver a written Weekly Status update on project progress and challenges.
Beat that Deadline – Complete work ahead of deadlines to ensure your boss has time to review. This also allows adjustments and corrections (hopefully not rework!) ahead of important deliverable dates.
Ask for Feedback – This is another area where you need to be forward. If your boss is too busy to provide feedback, make sure you seek it out. Don't assume and don't wait for feedback. Ask for it.
Stay One Step Ahead of Them – Don't wait to act. Be proactive and bring your boss solutions instead of waiting for problems to catch fire. If he or she is already behind in their work, they will doubly value your proactive efforts to get things done.
Be Your Own Cheerleader – Make sure you stand up for your work and that you communicate about your successes. I have seen entire teams "forgotten" when their disorganized boss did not communicate about their hard work. Always be your own biggest cheerleader.
Make Them Look Good – Part of your job is to make your boss look good. This one gets some people. Never underestimate the power of making your boss look good. Resist the urge to let your disorganized boss drown in their work. That is not a recipe for success, nor is it how teamwork works. (If you can't make your boss look good, then it may be time for you to move on.)
Stay Ahead of Your Boss
At some point, you will work for a disorganized boss, and part of your job will be to help them succeed.
Even good bosses go through bad times.
With extra planning and effort, you can still thrive even if your boss isn't on top of their game.
So, stay one step ahead of your boss and make sure you help your boss do the same.
Question: Do you work for a disorganized boss? How do you stay ahead of your work? You can leave a comment by clicking here.