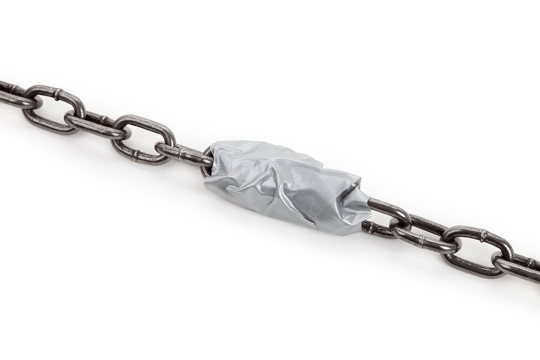 Recently, I was working with an individual who had a pile of organizational tools on his desk.
He had tool after tool that he used for various tasks and todos.
There was one piece of software that fed another. And one system that was synced and linked to another via keywords.
It was a complicated mess, to say the least.
Is your time management system a bunch of tools being held together by duct tape?
Complex Productivity or Just a Mess?
I often see people who have too many tools in their productivity toolbox.
Often, they have developed wonky ways to use them together.
One system links to another, or this tool is connected to that tool.
Don't let your productivity tools be ruled by a tangle of rules, flowcharts, and scripts.

The simpler the solution, the more effective you will be in your work.
Complex productivity systems quickly become non-productivity systems.
Simple Gets the Work Done
Do any of these sound familiar?
– Your review process requires a flowchart.
– You have scripts that feed one tool into another.
– You have so many tools that sometimes you don't know which one to pick up for the task at hand.
 You end up doing more work just to maintain your system than you do getting work done.
Here are some tips to help you avoid making your time management too complex:
Keep It Simple – You don't need a power drill when a simple screwdriver will do. Don't use complex tools just because they are shiny or new. Stick with what works. Upgrade only when it makes sense.
Power of 1 – Have one tool for each type of task. Minimize the number of tools in your productivity toolbox.
Complex Doesn't Get the Job Done – Just as many confuse movement with productivity, don't confuse complexity with effectiveness. The latest gadget or software app isn't going to save you. (See #1) You have to do the hard work yourself.
Beware Weak Links in the Chain – The more moving parts in your system, the more likely you are to have a failure. "It was on my other calendar" doesn't cut it as an excuse.
Choose Your Tools – Always choose tools that you will use, and are proficient with. Adding tools to your arsenal that are just for show, just ends up making a mess.
Effortless Means Effective
Don't fall trap to complex solutions that look fancy.
Fancy doesn't get work done. Complex doesn't either.
So, leave the duct tape out of your time management.
Keep your system simple.
Simple gets the job done.
Question: Are you using duct tape to hold your productivity together?