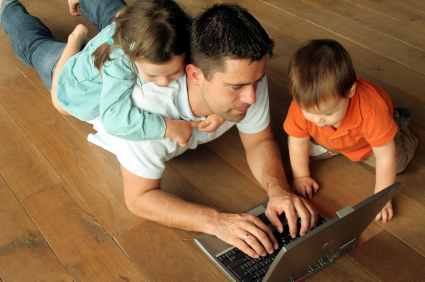 The following is a guest post by Thanh Pham, a blogger and world traveler. He frequently writes about time management and personal productivity over at Asian Efficiency.
Working from home comes with many advantages. You don't have to wake up at a specific time, no time is wasted in traffic, and you have a lot of freedom on how you do your work. However, it also makes it more challenging to keep up your productivity because it is easy to get too comfortable.
Here are 5 tips to ensure you stay on task, and to boost your productivity, when working from home.
#1: Separate Office
One of the biggest challenges of working from home is mentally making the switch between when you work and when you have personal time. When you go to the office you make this switch, but what if you work from home? That line is very blurry, but the best way to address this is to have a completely separate office in your house.
This should be a space where you know, as soon as you enter, that you are in "work mode". This allows your brain to distinguish between work and personal. That's why it's a lot more challenging to make this mental switch when you have a studio apartment – it's much better you have a one-bedroom apartment, if you do have to live by yourself.
#2: Cockpit Time
An advantage of working from home is that you will not easily get distracted by coworkers. You really have to take advantage of this alone time, or as I call it cockpit time. There are two approaches to this:
Set designated hours.
For those who need discipline, set fixed hours for when you work. You should plan your day based on when you feel most creative and energetic.
Work a minimum amount of hours each week.
The other approach is to set a minimum amount of hours you work each week. This means that you will have to track your time to get your quota. This is very flexible and does require a lot of discipline, so if you don't have the latter the first option is the best for you.
#3: Boundaries
You have to get better at taking responsibility for and enforcing your boundaries to maintain your productivity. It's very easy to start slacking when you work from home because there is no supervision. That takes away some pressure and at the same time it gives you a lot of freedom. However, you also have to learn how to manage this freedom by saying "no" to a lot of things.
It's easy to say to yourself "I can make up for this later" and then later never comes. Your alarm goes off but you really want to sleep in because you went to a party the night before.
If you don't have strong boundaries it can get really comfortable – up to the point where it is too comfortable. So make sure you keep your boundaries in check. The better you get at enforcing your boundaries, the more productive you'll be.
#4: Frequent Breaks
Staying at the same place all day drives some people crazy – especially if you are extroverted. You need a little bit of social energy to keep yourself in check. That's why it's very important to take frequent breaks throughout the day. Depending on your concentration span, you should, at a minimum, take a break every 90 minutes.
Go for a run or exercise at the gym. Run an errand. Grab lunch around your area. There are plenty of ways to recoup and re-energize yourself. Just do not forget to take breaks and to get out of the house at least once a day.
#5: Hourly Check
Self-management is really important. You must get better at managing yourself when you work from home. Nobody is there to keep you on your toes or to tell you what to do. A great way to stay on point is for each hour is to ask yourself this simple question: Is this task I am working on my highest value activity?
A great way to implement this, in case you easily forget things, is to set reminders in your (digital) calendar for each hour to ping yourself. Because it is so easy to get out of alignment of what you're supposed to do, this simple hourly check ensures you stay the course.
Question: If you work from home, how do you keep yourself on task?