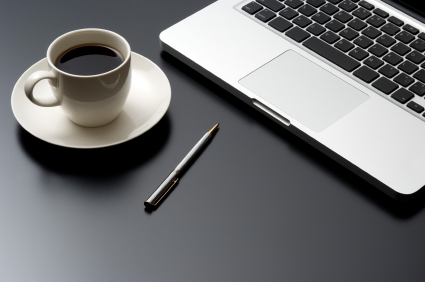 The following is a guest post by Jen Lamb. Jen writes for No Hype Time Management and is passionate about time management techniques and productivity.  She wrote this at the kitchen table with her favorite pen nearby… the PC in the office isn't good for creativity.
Your Routine Matters
I first thought about habits influencing productivity when I read Steven Pressfield's "The War of Art."  As a writer, he has a very specific routine that he goes through every morning to get in the "zone" to write. Reading about his routine, down to a special name tag that he pins on his shirt, jump-started me in identifying my own time management and productivity habits.
Isn't it interesting that many of us have routines for being productive? I produce my best work on my laptop in two locations, my bed (it has to be made before I open the laptop) and at the kitchen table. Even though I have an office with a PC and back porch with comfortable chairs on it, they don't produce the same results.
Specific items are also a part of my routine: a notebook, 3-ring binder of organized notes, a current magazine (headline inspiration) and my lucky pen.
Intellectually, I know that these are just artifacts that don't affect the quality of my work. However, when I try to produce without them it never works out. The funny thing is, I type my work, I don't even use the pen except to jot random thoughts down!
A few ideas that help promote productivity:
Routine – You have a routine to get ready for bed. You should have a routine for getting down to business.
Your Happy Place – You may not be able to influence where your desk is at work, but you can move things around on it (bring your favorite pen!) and make your space conducive to concentration.
Get Focused – Once you go through your daily routine that sets you up to get down to business, don't stop and do something else, stay on track and finish what you start. If you have several stops and starts, you lose time every time you mentally reset your routine.
Remember "Why" – Remember not only what you sat down to do, but why you're doing it. The bigger picture and purpose allows you to stay focused on getting through it.
Knuckle Down – The most successful people don't wait for inspiration to strike, they act and inspiration follows. Your book won't write itself, your house won't clean itself, and your job doesn't do itself.  You get yourself in gear and start, and excellence creeps in while you're at work.
Consistency has a powerful effect on your life and, just like the tortoise and the hare, results happen when you consistently make an effort to get better at something.  You've read about the one-hit wonders who had actually been toiling away for 10 years before they were "discovered."
When you have a consistent routine for doing something important to you, a way to set yourself up mentally to approach the task, your results will speak for themselves.
Don't get down if life is a broken series of accomplishments building upon each other, it's important to hone your technique for producing your best work.  Once you're in the habit of practicing your craft after mentally setting yourself up for success, and do this consistently, your productivity will soar.
Because you're wasting less mental energy trying to create inspiration to do a task, and more energy actually creating, inspired work tends to sneak up when you least expect it.
Question: What is your best routine for productivity?