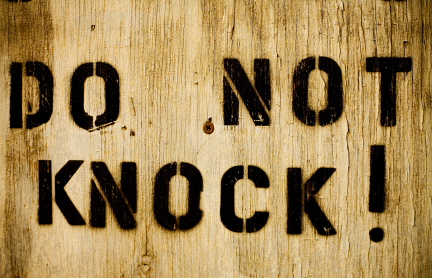 One of the top productivity excuses I hear in the workplace is… people keep interrupting me. 
After all, I could get my stuff done if others weren't constantly disturbing me.
What do you do when co-workers are preventing you from getting things done?
Excuse Me, I'm Working Here…
One of the top cited sources of non-productivity in the workplace is interruptions.
Disorganized and noisy workplaces don't make for productive teams.
In the name of teamwork, cost-savings, and openness, companies setup workspaces that actually encourage interruptions.
"Many companies set themselves up for failure by creating work environments that are counter-productive. 

Small cubicles, open meeting rooms, a limited offices may provide a team-like atmosphere…

But, they don't lead to completed work or productive workers."
Despite good intentions of team-friendly environments, many companies end up with chaos looking like a battle-scene from the movie Braveheart.
While socialization and teamwork is crucial to the workforce, so is getting actual work done.
Creativity and new ideas require long periods of uninterrupted work.
Does your workplace provide areas conducive to getting work done?
Or is it contributing to your team being unproductive?
Stop Interrupting Me!
What can you do if your workplace is a center of chaos and non-productivity?
Here are 7 Ways to Prevent Others From Interrupting Your Productivity:
Go Someplace Quiet – Go to your Fortress of Solitude. It may be a quiet conference room. It may be on a floor away from your desk or office. Sometimes it is where you work. If your workplace allows a flexible work schedule, then work remotely for part of your time.
Shut The Door – Doors were made for a reason, and sometimes they are intended to be shut. Don't let misguided "Open Door Policies" prevent you from getting work done. And when you are finished, by all means, open that door!
Signal Your Isolation – Your co-workers might not take kindly if you put a "Do Not Disturb" sign on your desk. However, there are many great ways to signal to your co-workers that you are occupied at the moment. It could be as simple as putting on headphones. Your co-workers will be less likely to interrupt you if they understand you are busy.
Work When Others Are Not – One of the best ways to avoid interruptions is work when there are less of them. If you can flex your time, then come in early or stay late and work when there are fewer interruptions.
Turn Off the Interruptions – It is ironic when people get frustrated with interruptions, yet they continue to let them happen. No one said you had to answer that phone. Turn off the email notifications and phone chimes, too.
Play That Music – Music is a great way to isolate yourself from disturbances and drive your productivity. Often, just the mere practice of wearing headphones will prevent others from disturbing you. (See #3.)
Put On Your Blinders – When you must get work done, put on your productivity blinders. Concentrate on the task and hand and shut out the interruptions. Try working with you back to the door. Tell those that do stop by that you will have to get back to them in a short while. Stay on task unless you absolutely have to be stopped.
Work Without the Interruptions
Interruptions break your productivity flow and hard work.
Take steps to minimize the disturbances when you are doing important tasks.
By minimizing the interruptions in your day, you will complete your work that much sooner.
Perhaps, you can finish and head out while others are still interrupting each other.
Question: How do you prevent interruptions in the workplace?