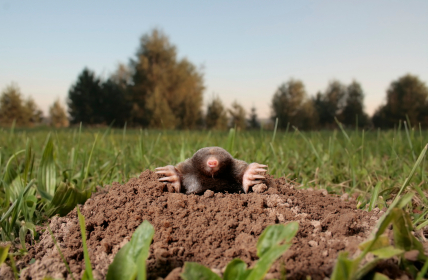 A friend of mine recently completed a large project in his job.
It took him 6 months to complete. When he finished it, he felt great.
However, he soon conveyed to me some regret.
Looking back he realized that this large endeavor did not further his business.
In fact, the feel-good project really did not do much of anything.
He had spent 6 months of effort working on what turned out to be a molehill.
Are you concentrating on climbing the mountains in life… or are you busy shoveling molehills?
Molehills Are Easy
When we look at what we are doing at work and home, it can be easy to get caught up in the small things.
The many little tasks that take up our time each day.
Some are necessary. Others not so much.
It can be easy to get pre-occupied with the molehills.
They can take over our time and lives.
Sometimes we attack the molehills because they are easier.

Other times, because they are more apparent and right in front of us.

However, you need to step back to get a bigger look at what matters.

Only then do you see the mountains.
I recently took a hard look at my TMN website activities and found many molehills. These were little things that were taking up my time, but really weren't important.
My molehills…
– Wanting to update the graphics and layout on my site
– Playing with the latest software or gadget
– Endlessly tweaking back-end settings on my site
I may want to do these things.
Some of them are entertaining and fun. But, they aren't important in the big picture.
The mountains I should be climbing are…
– Writing my book
– Starting my webinar/podcast series
– Publishing articles with top-tier sites to gain a larger audience
– Collaborating with my peers in the industry
These are the things that will show dramatic results over the long term.
It's important to step over the molehills, and concentrate on the big things.
Mountains Are Big For a Reason
The irony is that mountains are often so big, that we fail to see them.
They fade into the landscape and we are left staring at the molehills.
Here are my tips on "How to Avoid the Molehills and Climb Mountains:"
Take a Step Back – Often the best way to get a better perspective is to take a break and step back. You may think you were climbing a mountain, but in reality you were tending to a molehill on the side of the mountain.
Get a Second Opinion – You may be so vested in the project at hand that you cannot be objective. Seek the opinion of a trusted friend. Someone outside the situation who can give you the true lay of the land from their vantage point.
Pick the Path Less Travelled – The well-worn path is that way for a reason. Often, it is the easy route that others have taken. If you want to do big things, you need to choose your own path.
Get Organized – Going on a mountain climbing expedition takes planning, organization, and strategy. One of your first priorities should be to get on top of your workload and obligations. If you don't know your load, you won't make it up the mountain.
Think Bigger – To the person who has never seen a mountain, it can be easy to mistake the molehills for such. Make sure your goals and dreams are big enough.
Don't Settle -Many people spend their whole lives shoveling molehills because they settle for them. If you don't push yourself, you will always end up with the small molehills. I promise, you are stronger than you think.
Molehills Often Look Fun – The truth is that many molehills are fun. The latest project or shiny gadget can be tempting. Soon you are abandoning what is most important to play with the latest "hot topic."
Get Uncomfortable – Accomplishing big things is not easy. Climbing mountains is hard work. You will have to leave your comfort zone. After all, that is where the molehills are.
Delegate the Molehills – One of the best ways to avoid the molehills is to have someone else deal with them. Delegate, outsource, or have a service deal with the molehills. This can be done at all levels. In the most literal sense, it is paying someone to mow the lawn so that you can do bigger things.
Climb the Mountains
What are you spending your time on?
Are you shoveling your way through molehills?
Doing things that really don't matter in the long run.
Or are you attacking big, life-altering things?
Forget the molehills.
There are mountains out there!
Q: Do you spend too much of your time on the molehills in life? What are the mountains you should be climbing?