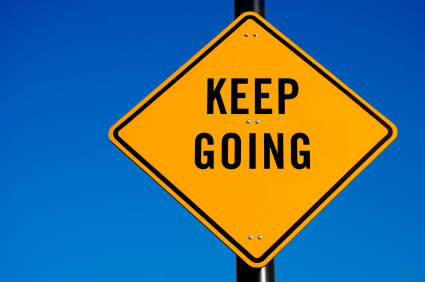 We are a quick fix society.
We want immediate action.
We expect immediate results.
When we don't get them, we complain. Often, we get upset.
Then we quit and move on to something else.
When Do You Give Up?
Too many people flit from one activity or goal to the next.
They want immediate gratification whether it is a simple task or a long-range goal.
Unfortunately, that's not how life works. It's not how you win.
To accomplish great things, you have to put in the work.
And then you have to put in more.
"Those who win are the ones who keep going, long after everyone else has given up and gone home."
Most people are starters and stoppers.
They love to start new things, and then they hang it up just as quickly.
(Whether it is a new skill, a new workout program, or even a new job.)
Instead, you need to be a starter and a finisher.
Quitting Too Early
Why do you quit?
Because things are… Too hard? Too much work? Too much discomfort?
You have to be willing to go through, around, and over the obstacles in your way.
To paraphrase one of my mentors Randy Pausch…
The brick walls are there to make you show how badly you want something.

They're there to keep out the other people.
Simply put, winners do the things that losers are not willing to do.
Winners put in the work. They do the practice. They have the discipline.
The others? They let the walls keep them out.
They quit too soon, often within site of the goal line.
They think that is good enough.
Don't Stop Now
Those that "don't give up," know another secret.
In many of life's most important things… there is no clear finish line.
You keep going. You keep doing the right thing.
And you keep winning… long after others have given up.
Question: Do you give up too early? What are you doing that you need to stick with?